If you have ever wondered, "can dogs eat limes?" Then this guide is for you! This is everything you need to know about limes and dogs.
As pet owners, we know that healthy dog food is the best thing you can give your fur baby. Sometimes, you innocently want to share your food with them. So, what about dogs and limes?
The short and quick answer is that consumption of any part of the lime is bad for dogs. It will leave a bitter taste in their mouth, so most dogs won't want to eat it anyway. Keep reading this guide to learn all about limes and to answer the question, "will limes hurt dogs?"
For ultimate pet safety, please ask your vet any questions you have regarding your dog eating limes.
Can Dogs Have Limes
No, dogs should not eat limes. This is not a safe fruit for dogs. Even a slice of lime is a serious threat to your dog. Some parts of the lime could be a choking hazard. More than that, all parts of these citrus plants, including the lime peels, and leaves of a lime tree, are unsafe for dogs to eat.
Keep reading to find out how much of the lime is harmful to dogs and the symptoms you should watch out for.
The good news is, if your pup eats a small amount of lime, your veterinarian can help ease their discomfort and help their body rebound.
Are Limes Toxic To Dogs
Yes, large amounts of lime is considered toxic to dogs. The peels contain very strong and potent essential oils. Dogs that eat lime peels might experience an upset stomach, diarrhea, or vomiting. Too much of the essential oils in their digestive system could lead to poisoning.
How much lime is toxic to dogs?
It takes a very large amount of limes to cause enough lime poisoning to kill a dog. In fact, most dogs will react so negatively to the essential oils and sour taste that they won't be able to eat a toxic amount.
If your dog ate some limes, keep an eye on them and take notes so you are able to give your local veterinarian enough information for them to help your pet.
Can Limes Kill Dogs
Are limes bad for dogs? Yes, they are very bad for dogs.
Lime trees produce a phototoxic compound called psoralen compounds which are toxic to dogs. But will limes kill dogs? More than likely they won't die from eating a lime.
The most common side effects from dogs eating limes are:
Difficulty breathing
Excessive Drooling
Gastrointestinal upset
Loss of Coordination
Low Blood Pressure
Intestinal blockage
If you suspect liver failure or your dog is acting so lethargic that they aren't responding to you, please seek immediate veterinary care.
Are Limes Good For Dogs
You might have heard that limes are good for humans and our immune system. You would be right! For us humans, limes have:
Great source of vitamin C
Powerful Antioxidant
Vitamin B6
Unfortunately, dogs do not benefit from them the same way we do.
Is Lime Ok For Dogs
No, limes are not ok for dogs. The best thing you can do is keep even small amounts away from your dog. Chances are they won't like the sour taste. Just in case your dog does like them, don't let them eat them.
Are Dogs Allergic To Limes
Most dogs are not allergic to limes. It's more of a reaction to the toxic essential oils in the fruit and peels. Large and small dogs pretty much all react the same way.
If they get some of the essential oils near their eyes they might have eye irritation or cough from the bitter taste. Offer them plenty of water and take the limes away from them.
Can Dogs Eat Finger Limes
So, can dogs eat key limes? No, the answer is the same. Both finger and key limes are unsafe for dogs to eat and could lead to either toxicity or a possible choking hazard.
Can Dogs Have Lime Juice
No, dogs should not drink or consume lime juice, even a small amount. The citric acid might irritate their throat and upset their stomach.
Can Dogs Eat Key Lime Pie
Key lime pie might seem harmless, but dogs should not eat sweet desserts. They have too many calories and could cause your pet to gain an unhealthy amount of weight. Plus, some types of key lime pie have artificial sweeteners like xylitol. Xylitol is toxic to dogs, never let your dog eat anything that is made with it.
Can Dogs Eat Lime Ice Cream
It's best to keep any time of ice cream away from your dog. Honestly, a small amount of lime ice cream might not hurt your pup. Sweet human foods are just unhealthy and not a good choice to share with your pet.
Lime Essential Oils and Dogs
Any time of aromatic oils, like lemon essential oils, are unsafe to use around your pet. You have to be very careful with how much you diffuse or use around them. Some types are too strong and could make your dog sneeze or irritate their eyes.
Dogs have very sensitive noses. Using essential oils like limonene might make your dog uncomfortable.
Read more about diffuser essential oils and dogs.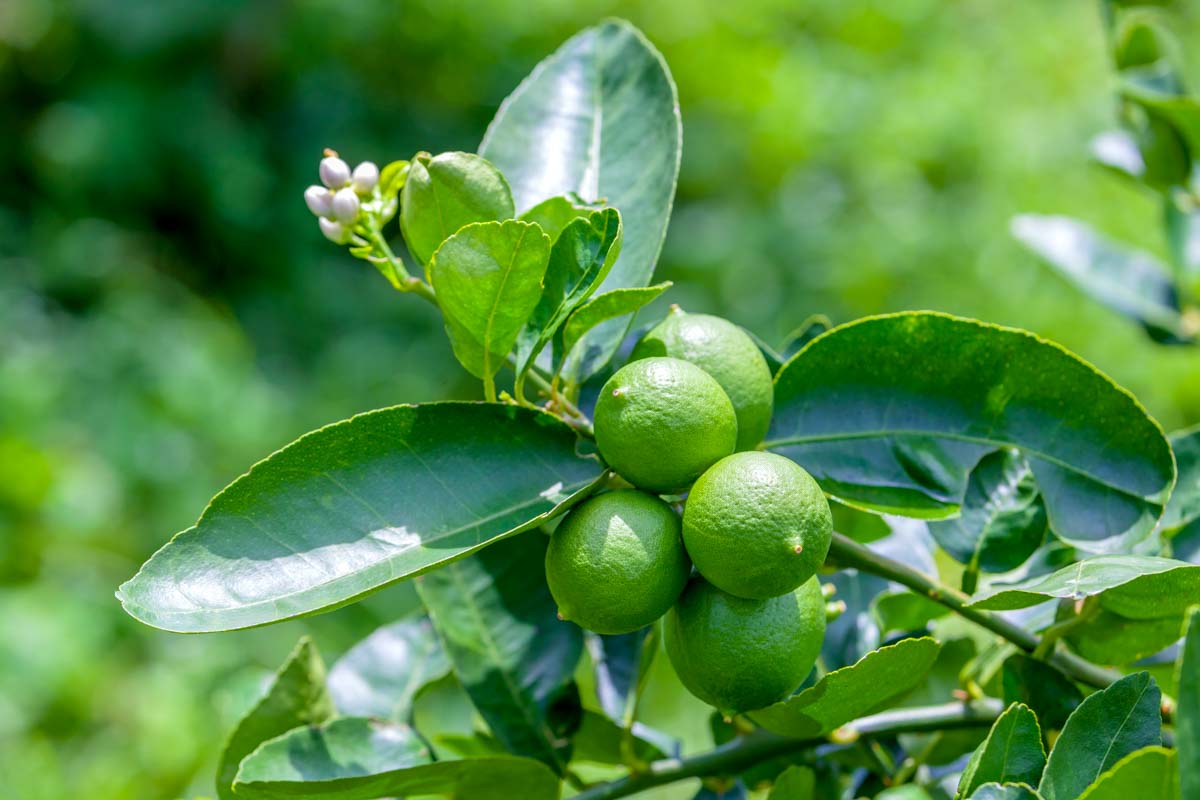 Lawn Lime and Dogs
There is another type of lime I want to mention – agriculture lime. This is made by creating lime dust from limestone. It is called ag lime, caustic lime, or quick lime.
No matter what you call it, it is unsafe to use around dogs. It could cause chemical burns or skin irritation.
If you think your pet messed with lime powder, wash with mild soap and try to get it off of them as quickly as possible. Let them drink a lot of water to flush it out of their system.
My Dog Ate A Lime – What To Do
If you think your dog ate limes, then you should contact your veterinarian. They will ask you questions – like how many they ate and which kind of limes they were. Then, your local veterinarian might give them activated charcoal in order to induce vomiting and remove the toxins from their body.
If needed, they might make a blood chemistry profile so they can create a complete blood count, along with a physical examination to decide the best course of action.
More than likely, the most effective treatment plan includes iv fluids in order to combat dehydration. Please contact your veterinarian with any questions you have about if your dog ate lime.
Final Thoughts
Dog owners, please keep limes away from your dog. You might not notice any symptoms if big dogs eat a tiny bit of limes, but it's just unsafe and not worth the risk.
Dogs have different dietary needs than human beings. They react poorly to limes and should not eat them or anything made with them.
More Dog Food Resources
Here are some more resources about fruits dogs can eat and ones that are bad for them.
Find lots more articles on food dogs can eat here on Spoiled Hounds!
📌 Pin this to save and share 📌