Before you start using your diffuser around your dog, read this guide. These are the essential oils toxic to dogs.
We use them for destressing, cleansing the air around us, and for a wide range of aroma therapeutic affects. Have you ever wondered if it is safe to use essential oil diffusers around your dog? This guide will tell you everything you need to know to keep your pet safe.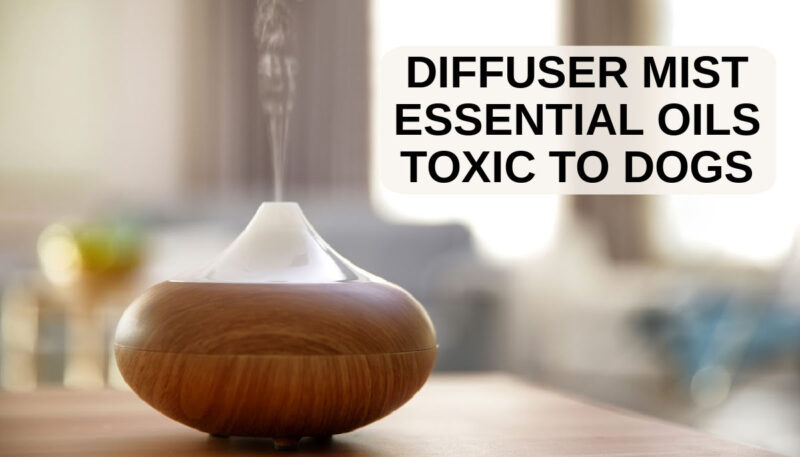 For ultimate pet safety, I recommend consulting with your vet about all the questions you have about diffusing essential oils around your dog.
Essential Oils And Dogs
Before we start this guide, I want to make something very clear. This guide is talking about how safe or dangerous it is to diffuse essential oils around your dog.
This is not a guide about the general or entire safety of essential oils and dogs. There are lots of pet products (like all-natural flea baths) that contain essential oils. Those are safe to use if you follow the directions exactly.
You should never apply undiluted essential oils directly to your pet. Use pet products only as directed.
I will answer the question, "are some essential oils bad for dogs?" later in this post. First, let's focus on the diffuser and how safe it is to use when you have pets.
Essential Oils Toxic To Dogs
Yes, there are essential oils that are toxic to dogs. I'm including the entire list a little further below.
The reason diffuser oils are toxic to dogs is because they are highly concentrated and dogs have a much more keen/sensitive sense of smell than humans.
Really strong oils like menthol, tea tree, pine oil, and ylang ylang might give your dog a negative reaction.
According to a pet clinic, one of the most common symptoms of essential oil poisoning are:
watery nose or eyes
redness of the lips, gums or skin
vomiting and drooling
difficulty breathing or panting; coughing or wheezing
lethargy, tremors or wobbliness
low heart rate
low body temperature
If your dog was around an essential oil diffuser and exhibits any of those symptoms, take them to your veterinarian immediately.
Diffuser Oils Toxic To Dogs
It's safest to just avoid diffusing essential oils altogether if you have a dog. There are some essential oils that are especially toxic to dogs in a diffuser. This is a comprehensive list of the oils that you need to avoid diffusing if you have pets.
List of Essential Oils Bad For Dogs
These are the essential oils not to diffuse around dogs:
Anise (Pimpinella anisum)
Bergamot (Citrus aurantium bergamia)
Birch (Betula)
Bitter Almond (Prunus dulcis)
Boldo (Peumus boldus)
Calamus (Acorus calamus)
Camphor (Cinnamomum camphora)
Cassia (Cassia fistula)
Chenopodium (Chenopodium album)
Cloves (Syzygium aromaticum)
Garlic (Allium sativum)
Goosefoot (Chenopodium murale)
Horseradish (Armoracia rusticana)
Hyssop (Hyssopus sp. with the exception of Decumbens)
Juniper (Juniperus sp. with the exception of Juniper Berry)
Mugwort (Artemisia vulgaris)
Mustard (Brassica juncea)
Oregano (Origanum vulgare)
Pennyroyal (Mentha pulegium)
Peppermint
Red or White Thyme
Rue (Ruta graveolens)
Santolina (Santolina chamaecyparissus)
Sassafras (Sassafras albidum)
Savory (Satureja)
Tansy (Tanacetum vulgare)
Tea Tree Oil (Melaleuca alternifolia)
Terebinth (Pistacia palaestina)
Thuja (Thuja occidentalis)
Wintergreen (Gaultheria procumbens)
Wormwood (Artemisia absinthium)
Yarrow (Achillea millefolium)
Diffusing Essential Oils Around Dogs
Not all essential oils are toxic to dogs. There is a safe way to diffuse essential oils around dogs. There are essential oils that are safe for use around dogs, but the list is very small.
The biggest thing to remember is to dilute the oils. Dogs have very sensitive noses and respiratory systems. Dilute your oils more than you normally would. For example, if you normally use 3-5 drops in a diffuser, only use 1-3 drops.
Veterinarian Dr. Roark has a lot of resources for essential oil and dog safety on her website too.
Are Essential Oils Safe For Dogs To Smell?
Yes, essential oils are safe for dogs to smell. You just have to be careful with which types they are around and the potency of the oils.
If you ever wondered about diffusing essential oils and dogs, just refer to the list above. Avoid using all of those oils around your pet.
In general, undiluted essential oils are so strong that your dog won't enjoy smelling them.
Are Essential Oils Safe For Dogs To Breath?
Yes, there are some essential oils – when they are very well diluted – that are safe for dogs to breathe. One of the most popular ones is lavender. This is known to produce a calming effect on dogs with anxiety.
Not enough studies have been done to produce an exact amount that is safe to use in the diffuser around dogs. Even one of the most popular essential oil brands, Young Living, only says to vaguely "heavily dilute essential oils and use them in moderation."
Yes, some essential oils are safe for them to breathe, but you should always dilute them by quite a bit.
Are Essential Oils Safe For Dogs?
Yes, it is safe to use pet products that contain essential oils for your dog. The only essential oils that are unsafe are the ones listed earlier.
Always dilute the oils really well before you apply them to your dog or diffuse it around them.
Do not apply undiluted oils directly to your pet and never use the oils around their eyes, ears, nose, or mouth.
Safe Essential Oils to Diffuse Around Dogs
According to Wild Earth dog food, these are the safest essential oils to diffuse (diluted) around your dog:
Chamomile
Frankincense
Ginger
Lavender
Final Thoughts
As you can see, there are diffuser oils toxic for dogs. But, there are also diffuser oils safe for dogs too.
If you have any questions at all about how to use essential oils safely around your dog, please talk to your veterinarian.
Always remember to dilute oils really well and never apply it to your pet without a carrier oil first.
More Dog Safety Resources
Here are some articles about human foods and whether they are safe or toxic for your dog to eat.
Find even more articles on human food dogs can and can't eat here on Spoiled Hounds!
📌 Pin this to save and share 📌