Even though they are a very healthy dog breed, whippets can have health problems. These are the most common whippet health issues and what to know about them.
I adore whippets. They are so full of life and just pour love on their humans. They are a healthy breed, so don't let this article scare you. It's just really good information to know so you can be prepared, just in case.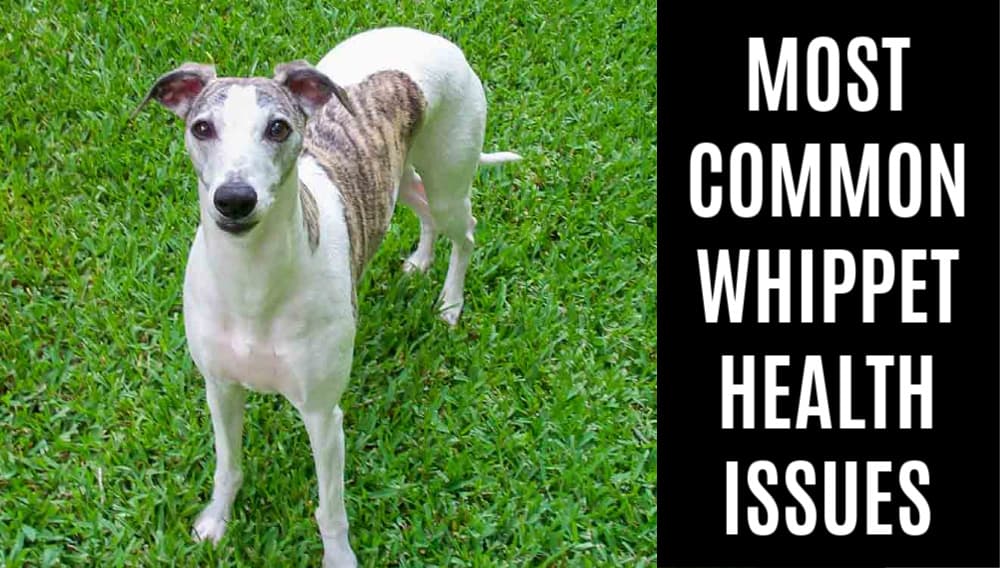 For ultimate pet safety, I recommend consulting with your vet about all the questions you have about your dog's health issues.
Whippet Health Issues
Whippets usually don't have very many health issues at all. In fact, they have a nice long lifespan of about 12-15 years.
Good, responsible breeding plus the breed standard not having specific colors or patterns has resulted in a large and strong gene pool. Many dog breeds have a history of inbreeding to produce specific coloration or other traits. That inbreeding caused health issues for those breeds. Fortunately, there has been no reason for whippets to be inbred.
Even so, there is still a chance they could get sick. So, what are the most common whippet health issues? Read on and see.
Genetic Health Issues
Many of the health problems you'll find with dogs are going to be genetic. Whippets have fewer genetic issues than other breeds.
These are the most common genetic health issues for whippets.
Eye Defects
Even though they are pretty uncommon, genetic eye problems have been found in whippets. Responsible breeders have their whippet's eyes checked prior to breeding to prevent genetic eye defects from being passed on.
The most common eye problems in whippets are actually just natural vision loss from aging.
Congenital Deafness
Congenital deafness in whippets is also very rare. It's easy to spot in really young puppies. Deaf whippets can be trained to follow hand signals and live a very full and happy life.
A very small percentage of whippets might have unilateral hearing. It is when they can hear from only one ear and not the other. These dogs shouldn't be used for breeding, but they make excellent pets.
Hypothyroidism
Hypothyroidism is another very rare genetic disease whippets could have. This means the whippet isn't making enough thyroid hormones, causing its metabolism to slow down.
Undescended Testicles or Only 1 Testicle
Some dogs could inherit an undescended testicle or be born with just one testicle. If it is undescended, talk to your vet. This could turn cancerous and removing it is usually a good idea.
Cardiac Disease
Unfortunately, cardiac disease has been found in so many whippets lately that the American Whippet Club is studying it.
Since 2004, the American Whippet Club has also been working with a group of researchers on a long-term study of Whippet hearts.

American Whippet Club
One of my whippets had cardiac disease. Lexie had an enlarged heart.
If you notice your dog having possible heart issues, please see your vet right away.
Top 20 Common Whippet Health Problems
There was a poll in the Whippet Health Issues Facebook group about the most common health issues they have encountered and these are the results.
The first one, number one, is the most common. The last one is the least common, according to the people who responded to the poll.
#1 Heart Murmur
Since whippets are such athletic dogs, this comes as no surprise. Sometimes they have soft systolic heart murmurs that are associated with athletic training or body conditioning.
A heart murmur refers to the sound the dog's heart makes. Your vet can pick up on any abnormalities.
#2 Cryptorchidic/Cryptorchidism
The second most common health issue is an undescended testicle. Talk to your vet if you notice only one testicle and what they recommend doing about it.
One of my whippets (Tiger) had both testicles undescended. Luke had one testicle undescended.
#3 Epilepsy
You'll know if your dog has epilepsy. Symptoms are very visual and include collapsing, jerking, loss of consciousness, drooling, chomping, tongue chewing, or foaming at the mouth.
Genetic epilepsy is called idiopathic. It usually shows up in dogs around 1-3 years of age.
This can be treated with medications, so talk to your vet.
#4 Pancreatitis
This is basically an inflamed pancreas. Signs include loss of appetite, vomiting, and abdominal pain. Some foods can cause it, so be careful with what your dog eats.
The American Kennel Club has more information on pancreatitis in dogs.
#5 Steroid Responsive Meningitis-Arteritis (SRMA)
This is a more serious disease. SRMA is an auto-immune condition where blood vessels become inflamed in the lining of the nervous system.
The main signs are spinal cord pain and high temperatures.
#6 Irregular Mitral Valve
Mitral Valve Disease is pretty scary since it can go undiagnosed for so long. If your dog has an irregular mitral valve, it will leak and could cause heart murmurs or infections.
#7 Hypothyroidism
Weight gain in whippets is very obvious and it's the most common symptom of hypothyroidism. If you think your dog might have this, your vet can do a blood test to confirm.
#8 Corns
Dogs can get corns on their paws, just like you and I can get corns on our feet and toes.
Corns are basically keratin calluses that don't have any tissue or padding. They can be pretty painful. Some owners opt to remove them.
Zephyr has a corn, so I know the pain.
This Facebook Group is about Greyhounds with corns. It's full of helpful information from other Greyhound and whippet owners.
#9 Bully Whippet Syndrome
Bully Whippet Syndrom is a genetic trait that causes whippets to look extra muscular. You'll notice that your dog has it if they look like a bodybuilder.
Bully Syndrome is a rare condition that is almost eradicated thanks to responsible breeding. There aren't currently any treatments for it.
#10 Immune-Mediated Hemolytic Anemia (IMHA)
IMHA is an auto-immune disease where the body attacks its own red blood cells. It can lead to low red blood cell count (anemia) and possibly even require blood transfusions.
Trixie had IMHA and underwent several transfusions.
#11 Inflammatory Bowell Disease (IBD)
It's as painful as it sounds. With IBD, the walls of the gastrointestinal (GI) tract become inflamed. Symptoms of IBD are decreased appetite, vomiting, weight loss, loose stool, and liquid or bloody diarrhea.
#12 Dilated Cardiomyopathy
This is another form of heart problems. With dilated cardiomyopathy, your dog's heart has a decreased ability to generate pressure to pump blood through to the rest of the body.
You'll notice low blood pressure. Sometimes, dogs can live from 1-3 years with it.
#13 Overbite
Next, some whippets are born with an overbite. One of my dogs, Trixie, had an extreme overbite. The breeder called it parrot nose.
Unless it's impeding their ability to eat, most overbites can be ignored.
#14 PRA Cataract
PRA (Progressive Retinal Atrophy) Cataracts in dogs is very similar to cataracts in humans. It will cause vision loss.
#15 Lymphoma
Sadly, even dogs can get cancer. My whippet Tiger had subcutaneous lymphoma and it was a very scary time for all of us.
There are cancer treatments for dogs, but it's tough to watch them fight it.
#16 Cushing Syndrome
If your dog has a bloated or potbellied appearance, get them checked out for cushing syndrome.
This disease happens when the adrenal glands overproduce certain hormones.
Other symptoms include panting, thicker skin, increased appetite, drinking more water than normal, and frequent urination.
#17 Neck Hernia
Also called Cervical Disc Disease, this happens when the discs between the bones in your dog's spine disintegrate and slip. It's just like a slipped disc in humans. It's very painful. It's a common thing that happens as a dog ages.
This is number 17 on the list because it's not very common in whippets. It's more common in dogs with short legs like Dachsunds and Shih Tzus.
#18 Vestibular Syndrome
The vestibular syndrome includes the inner ear and is responsible for maintaining normal balance.
If you notice your dog acting dizzy, talk to your veterinarian. Other signs include head tilt and irregular eye jerking movements.
Hypothyroidism can cause it. So can inner ear infections, that's why it's so important to talk to your veterinarian if you notice your dog acting dizzy.
#19 Paralysis
Paralysis in whippets is both sad and scary. Thankfully, it's also very rare. Lots of different things can cause it. If you notice your dog being unable to walk or having difficulty, take them to the vet right away.
#20 Immune-Mediated Polyarthritis
This is also very rare. In Immune-Mediated Polyarthritis, the immune system mounts an inflammatory attack on a dog's joints. This can cause lots of pain and swelling.
Steroid medications might help, so talk to your vet.
Other Dog Health Issues
Another common issue with whippets is stud tail. It looks like a bald spot on your dog's tail and may appear to have blackheads. I wrote an entire guide to stud tail, complete with pictures, so you know what to look for and how to treat it.
Whippet Health Issues Are Minimal
Whippets are a generally healthy breed. They are known for being athletic. If you notice any abnormal behavior, always talk to your vet before trying to treat it at home.
More Whippet Resources
Here's some more helpful information for Whippets.
Is your whippet a poop eater? Read more about why dogs eat poop and how to stop it.