Two whippet puppies were given to me for my 40th birthday. It was my whippet dream come true. They were littermates. Actually, they were the litter. I'm writing about Trixie first because she was born first. She was a small yet mighty, strong-minded whippet. In her mind, she was the queen of the world and allowed us to live with her.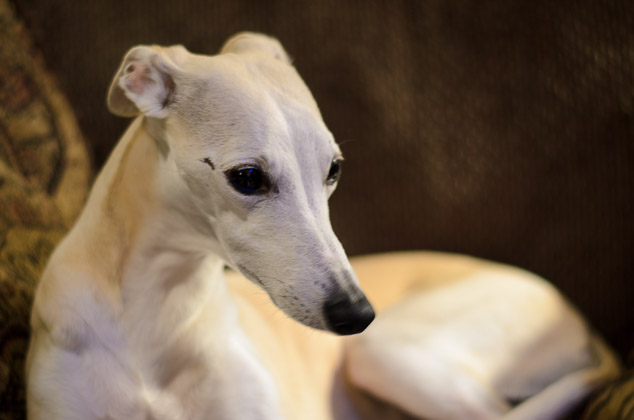 Trixie was the smallest of our three whippets. Her size didn't matter and she asserted herself as the leader of the pack. I watched her pin Tiger against a wall and he outweighed her by at least 15 pounds. What's interesting is how, if it got down to it, she wouldn't have had a chance in a fight. Why? Because she had a terrible overbite. The breeder called it parrot mouth. You can see it in this photo: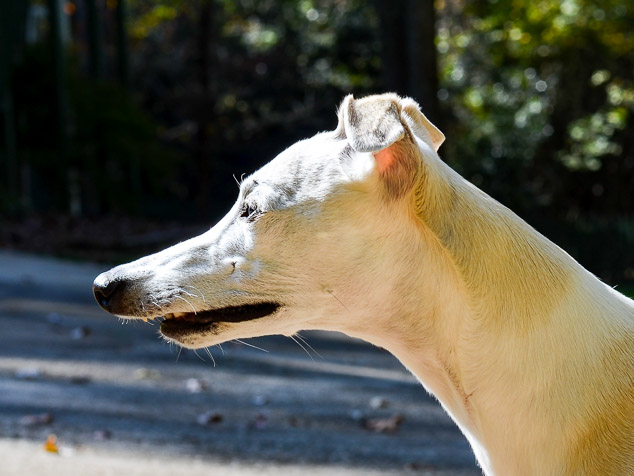 Because of the bottom jaw being so short, her lower canine teeth grew outward. It meant she could not really bite into something like other dogs. Later it also caused her front top teeth to become loose. We had to have several of them removed.
Nothing got in the way Trixie on a mission. Her tenacity and stubbornness were epic. One day she was upstairs and spotted something outside. My husband had the window open to let in the fresh spring air. Trixie jumped out that second story window and landed on the driveway. She took off running into the swamp behind our house to chase whatever it was she saw. Second story window? Heights? No problem for our strong-minded whippet.
Trixie would come to us when she felt like it. One day she'd totally ignore us when we called her and the next day she'd come running. Everything was on her terms. What a spitfire! I'd call her Trixie the Trickster with her shenanigans.
She loved playing with her sister Lexie. They would play pull and keep away with toys. Oh, she was a total toy de-stuffer. What's funny is she wouldn't de-stuff them right away. Sometimes a toy would last for months. Then one day she would decide it was time for it to be de-stuffed. Each time we got a new toy we would wonder how long it would last.
At ten years old, she was diagnosed with an auto-immune disease. She was weak, had pale gums, and no appetite. We were determined to fight it. The vet specialist put her on medications along with a blood transfusion. Trixie would perk up then decline again. Over the next year, there were more blood transfusions and we also started giving her spirulina after we found it helped in some cases. Her packed cell count was holding and sometimes increasing by a point.
Then one night she came in and I noticed her foot and leg were very swollen. She had been bitten by a snake. I rushed her to the emergency clinic. She spent the night and was treated. The next day I took her back to the specialist for more treatment. The next morning she was very sick. Unfortunately, the combination of the snake bite, medications, and recent transfusion was too much for her weak system. We had to say goodbye to her.
I know she is still with us in spirit. She was too much of a strong-minded whippet to totally go away. I swear she's whispering to Luke and passing on her stubborn, determined, and tenacious ways.