Milo's progress on overcoming his fears had stalled. Getting a big brother for him helped somewhat. Unfortunately, his big brother Zephyr was not as playful as we hoped. I started searching for whippet breeders and available whippets. I filled out a form on one breeder's website and wondered if I would ever hear a response. A couple of weeks later, I received an email. There was a new litter with the possibility of some of the puppies available. YAY! Only thing is, at this point, I hadn't talked to my husband about getting another dog.
I took a chance and asked him about getting a puppy. He gave me a look then said "whatever". Oh yea! I almost ran to my laptop to send off an email. A few emails and phone calls later, we made a date to select a puppy and have a test weekend with it. I looked at photos of the puppies. This one face caught my attention the most.
There was another photo of the same puppy that also made me smile. It was one with Santa and the puppy looked so happy and not afraid of the big stranger holding him.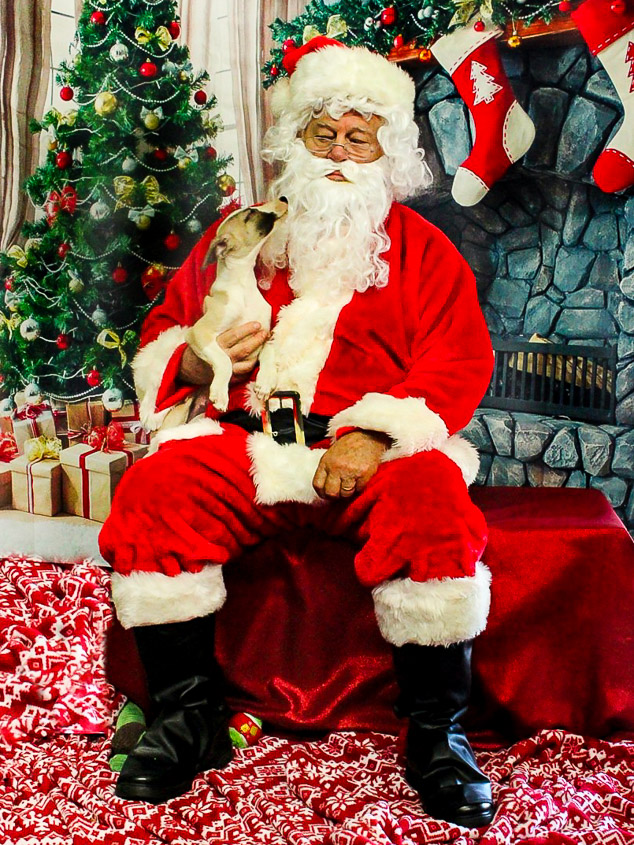 How a puppy looked would not be a deciding factor. It was more important for it to be fearless. We needed the complete opposite of our fearful dog Milo. Guess what? That same puppy was also fearless. The breeder had the puppies temperament tested and "fearless" was written on his results. How great!
The test weekend went superbly. He was ours and it was time to give him a name. The breeder requested the name be in the theme of "Nature". My husband suggested the name Luke from Star Wars because he was a new hope for Milo. I came up with Luke Windrunner as a variation of Skywalker.
Luke is definitely fearless. He's a whole lot of other things too. I tell people he is 8 thousand percent whippet. He's happy, loving, curious, naughty, playful, stubborn, strong-minded, mischievous, and full of energy. He's also a digger, lap monster, eating machine, toy destroyer, and instigator. He can work his eyes and give the most pitiful look when he wants something. He also will watch Star Wars when it is on TV, believe it or not.
Luke has done wonders for Milo. They are best buddies and play all the time. Milo sees Luke doing things and it helps encourage him to try it too. Luke wasn't a cure for Milo getting over his fears yet he caused more progress than anything else.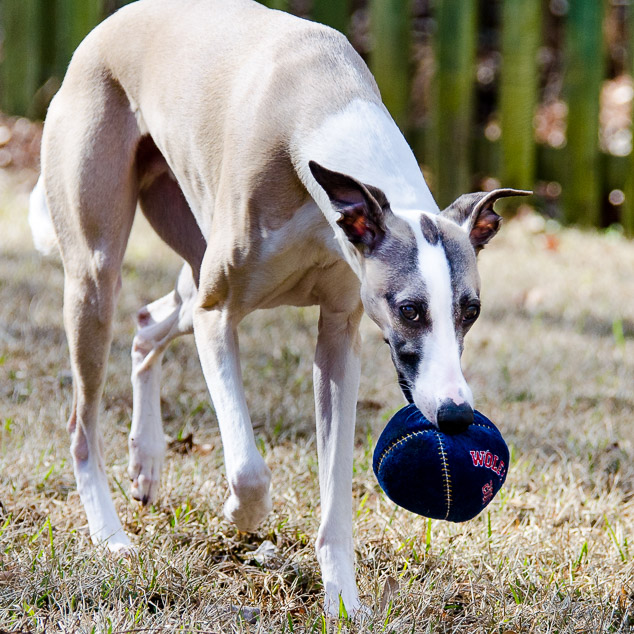 Luke Windrunner is such a positive force in our family. He makes us smile and laugh daily. He even gets Zephyr playing. Most of all, he continues to do and great job of helping Milo get over his fears.