Our first whippet, Devo, had passed too early at only four years old. Right after, I was on a mission to find another one. This time I sought after breeders instead of looking through newspaper ads. I found one and made a call. She had one available. She had intended on showing it however its testicles did not drop. I went to take a look. One second of seeing him is all it took. Tiger, our miracle dog, came home with me that day.
Tiger was five months old when he joined our family. My husband was at work when I brought him home. He called and I said I had the cutest tiger on our bed. "Tiger?" He asked. "Yep, you'll understand when you see him" I replied. He was a gorgeous red brindle, exactly like the coloring of a tiger. That's how he got his name. He looked like one so he might as well be called it.
Wow, was he full of energy! Totally and completely opposite of Devo. He played and played and played and played some more. Poor Pancho had to put up with his antics. It's was good though. They got along wonderfully.
Tiger had recurring diarrhea at first. It would go away then come back. It took a while to figure out what was causing it until finally, the vet found whipworms in his poop. A round of de-worming and it cleared up. Whew! We were so glad the mess and stress of it were gone.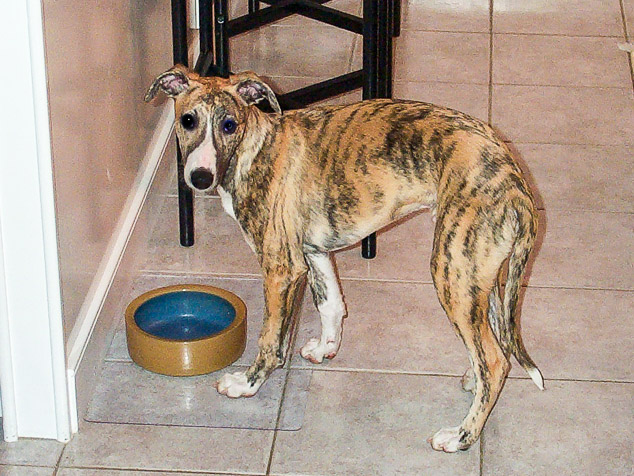 He had major separation anxiety. We didn't know why because he had the company of Pancho when we were away. I now understand it is common with whippets. Tiger would try to scratch and chew his way out of the room where we kept them while we were away. I tried spraying the area with cayenne pepper. That didn't work. We tried several things. Nothing seemed to help until we got Trixie and Lexie. It stopped as soon as they joined our family.
Tiger was a hunter. Whippets were bred to hunt small prey like rabbits. I lost count of how many squirrels and rabbits he caught in our backyard. Once there was a squirrel sitting on top of our fence. He ran to it, jumped up, got it, did a full flip, and landed on his feet with the squirrel in his mouth. Absolutely incredible.
He had a sweet nature and loved to cuddle. Nap time was a race to the couch. If one of us headed toward the couch, he'd zoom right to it and get his spot right by our legs.
Over time we noticed some lumps on him. It is common for dogs to develop fatty lumps. Pancho had some and we had them removed. We decided to do the same with Tiger. This time though, we got some bad news. The lumps were cancer, sub-cutaneous lymphoma. The vet told us he would only have about 3 months to live. Chemotherapy was not an option because it rarely is successful with that type of cancer.
Our vet advised us to make every day for Tiger a good one. Easy to do since it meant doing what we always do and spoil our hounds. Three months came and went. And a year, and another. He defied all and kept going. He was our miracle dog.
Tiger started feeling poorly. We took him to a specialist and discovered he needed his spleen removed. Since he was doing fine otherwise, we had the surgery done on him. Lab results showed no trace of cancer. Both the specialists and the vet surgeon were completely amazed. They knew his history. Both agreed he truly was a miracle dog.
He made it another two years. That's three years and 9 months longer than he was supposed to live. The sub-cutaneous lymphoma finally caught up with him. It went into his organs and system. We miss our miracle dog dearly. He taught us to not give up hope too quickly and to make every day a good one.