Does your dog have a mysterious bald spot you can't explain? If your dog has experienced hair loss or has a large bald spot on the tail, it might be a case of stud tail. While it might seem scary at first, stud tail is a very common and treatable skin disease in dogs.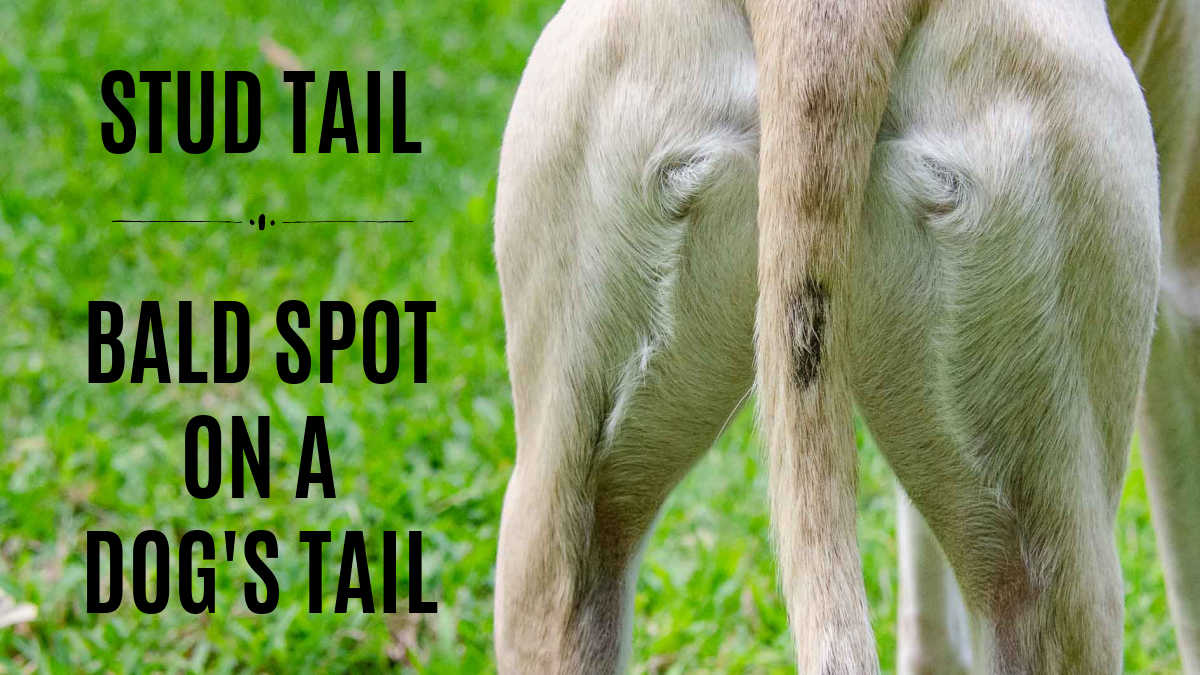 What is Stud Tail?
Stud tail is the basic term for the more scientific term, tail gland hyperplasia. Simply put, this is a dog tail infection. It is a condition that occurs in a dog's supracaudal gland, a gland located in the upper to middle half of a dog's tail.
This gland is also known as the violet gland and contains sebaceous glands that secrete sebum, an oily substance. These glands are normally responsible for producing sebum within hair follicles that keeps the hair on the tail soft and flexible.
Supracaudal gland hyperplasia is when the sebaceous glands secrete abnormal amounts of sebum. These oily secretions are one of the most common causes of stud tail.
You can read more about a dog's supracaudal gland on the Dog Discoveries website.
If you see your dog losing hair on its tail, please reach out to your veterinarian for a proper diagnosis. Your vet can do a physical examination and give you professional and personal advice just for your dog.
Stud Tail Symptoms
The symptoms of stud tail can be pretty easy to spot, once you know what to look for. If you're concerned that your dog might have stud tail, be on the lookout for these common symptoms.
Greasy and sometimes matted hair at the base of the tail
Missing hair at the surface of the base of the tail
Blackheads (comedones) on the skin at the base of the tail
Waxy substance on the skin and hair at the base of the tail
Skin infection at the base of the tail
A foul odor
If you begin seeing several of these symptoms together, be sure to begin treatment as soon as possible. The longer the condition is left untreated the worse it will get. It's better to act sooner rather than later.
This might start out looking like a cosmetic problem or a mild condition, but it could get worse if you ignore it. The good news is that there are things you can do to help your pup.
Something fun: 37 Naughty Whippet Dogs Destroying Things
Common Stud Tail Questions
What causes stud tail?
Stud tail is caused by two main factors, the first being if the dog's androgen levels are high over an extended period of time. These are levels that are heightened during the mating stage, so if the levels are heightened for too long it can cause the condition.
The second cause of stud tail is from is an outside agitator such as fleas. If these pests make their way to the tail gland and start sourcing blood from there, the gland is likely to get inflamed. If you notice your dog has stud tail, look for flea bites to see if that could be a factor.
It could also be caused by excessive oil buildup, much like acne in humans. In dogs, it's the buildup of sebum that causes these symptoms.
Is stud tail contagious?
No, it's not contagious. One dog can not give the condition to another. Stud tail stems from irritation or infection within an individual dog's immune system.
Does stud tail go away?
Yes, it can! As long as the proper steps have been taken, stud tail will go away. While, as stated, it's not a serious condition. You can ignore it as long as the area does not look irritated or infected.
Feel free to try some of the below-mentioned remedies. See your vet if the condition does not clear up or show signs of irritation or infection. There is a risk of secondary bacterial infections if it is left untreated.
Note it can take several weeks for noticeable improvement.
What do severe and mild cases look like?
Here is how to tell whether your pet has a mild or severe case. In mild cases, there might not be any inflammation. You might just notice a bald spot that looks extra greasy.
Please understand that a balding spot on a dog tail doesn't always mean they have stud tail. That's why a professional opinion from a vet is so important.
In severe cases, you will notice a very foul odor. The tail might be swollen at the bald site, and your dog might even suffer secondary infections. If you think your pet has a severe case, please reach out to your veterinarian.
Does Stud Tail Happen In Just Males?
Even though the name "stud" might make you think it's a dude thing, stud tail can happen in dogs that are adult males, intact males, and even females. It isn't something that happens to just boy dogs.
Is this the same thing as a sebaceous cyst on dogs?
No, stud tail isn't always the same thing as a sebaceous cyst. If you think your dog has a cyst on its tail, please reach out to your veterinarian.
Stud tail can lead to a secondary dog tail infection, so it is always a good idea to reach out to your veterinarian and don't just ignore it.
Interesting article: Why dogs eat poop and how to stop it.
FYI – This post contains affiliate links. As an Amazon Associate, I earn from qualifying purchases.
Stud Tail Treatment and Remedies
Since stud tail is such a common problem in dogs, there are lots of home treatments out there to try before heading to the vet. Here is a list of a few remedies for stud tail treatment.
Keep in mind these treatments are for clear-cut mild cases. If your dog is experiencing any severe symptoms, bypass the home remedies and take them straight to the vet instead. Your dog may need antibiotics or other medications to clear up the condition.
Do You Have Any of Your Own Remedies?
Comment below and let me know If you have any of your own stud tail treatments I didn't mention.
📌 Pin this to save and share 📌