Discover the good and bad about these sweet treats. Can dogs eat gummy bears? Keep reading and find out how dangerous they are.
Off the top of your head, you might just assume that dogs shouldn't eat any candy – ever. And you'd be right. But have you ever wondered about specific kinds? There are specific reasons dogs should not eat gummy bears and gummies – keep reading and learn what to do if your dog eats them.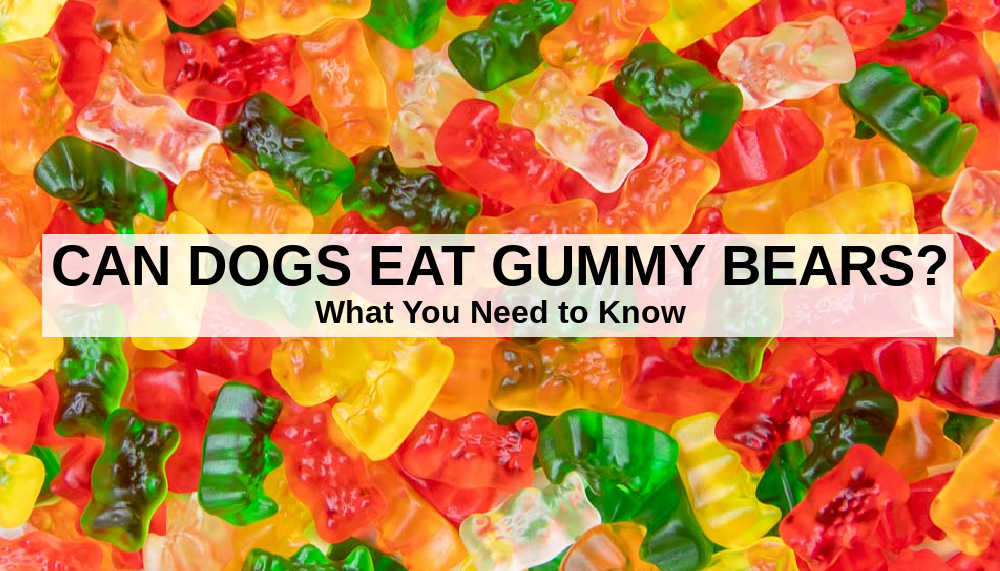 For ultimate pet safety, please ask your vet any questions you have regarding your dog eating gummy bears or any gummy candy.
Can Dogs Eat Gummy Bears
No, dogs should not eat gummy bears. The high sugar in gummy bears can cause a huge range of health issues. It will get stuck in their teeth and cause them to rot and get cavities. It is a good idea to keep them away from all types of candy.
The sugar in gummy bears can also contribute to blood sugar issues, obesity, heart disease, and pancreatitis.
The worst thing about gummy bears is that some brands and varieties contain xylitol. Dogs should never eat xylitol. It is an artificial sweetener that is toxic to dogs.
These are the xylitol poisoning that you should watch out for if your dog eats gummy bears:
Lethargy
Unstable walking
Collapse
Vomiting or diarrhea
Seizures
Accelerated heart rate
Abnormal or tarry stool
It can also cause liver failure. Never let your dog eat sugar-free candy of any kind. It's not good for your dog's body.
Can Dogs Die From Gummy Bears
If the gummy bears are made with xylitol then yes, they can die from it. Even just a few grams of xylitol sugar substitute can be fatal for a 65-pound dog.
The good news is that one or two gummy bears might not kill them. Even so, you should still watch your dog closely and call your veterinarian if you think your dog ate gummy bears with xylitol in it. Always keep your dog away from sugar-free gummy bears.
Can Dogs Eat Gummy Bears Without Xylitol
Even though gummy bears without xylitol are safer than the ones with them, dogs should not eat gummy bears at all.
Even full-sugar gummy bears are bad for dogs. The sugar levels could give your dog an upset stomach.
The high sugar content of gummy bears can cause negative health effects in the long-term – especially if they have a diet that is high in sugar from other sources. A poor diet might not kill your dog immediately, but it could cause their health to decline slowly over time.
Either way, gummy bears are known as dangerous foods that could cause weight gain (even in small amounts) or affect their low blood sugar.
It's a better idea to give your dog a healthy snack made with peanut butter than a few bites of sugary treats.
Can Dogs Eat Sour Gummy Bears
No, dogs should not eat sour gummy bears. The first two ingredients in them are corn syrup and sugar. Eating this much sugar can cause tooth decay and diabetes. It could also cause them to gain weight which can lead to another health issue like arthritis.
Can Dogs Eat Gummy Fruit Snacks
You might think that since they are made with "real fruit" they are safe for your dog to eat. Fruit snacks are still really high in sugar- even if that sugar comes from fruit juice instead of corn syrup.
Don't let your dogs eat gummy fruit snacks.
There are no nutritional benefits of fruit snacks. Look at the ingredients list. If sugar is the main ingredient, don't give it to your dog.
Can Dogs Eat Gummy Candy
There are a lot of different varieties of gummy candies for sale. The really quick answer is that you should keep them all away from your pup. All types of candies that are made for humans are not safe for dogs. The sugar content makes them more susceptible to obesity and related health problems.
Let's look at all the different types of gummy candies and whether dogs should eat them.
Can Dogs Eat Gummy Snacks
No, dogs should not eat gummy snacks, gumdrops, or gummy spice drops. The high-sugar in these foods – no matter what kind they are – will lead to poor health for your pooch.
Can Dogs Eat Peach Gummy Rings
Don't be fooled by the name – peach gummy rings don't actually have peach in them. They are made with lots of sugar and artificial colors. These ingredients are not good for your dog.
Different Types of Gummy Bears and Dogs
There are also lots of popular brands of gummy bears and they all make their candies in slightly different ways. In the end, you should keep all of them away from your dog as much as possible. Here's a closer look at some of the most famous gummy bear brands.
Can Dogs Eat Albanese Gummy Bears
The warning to humans on the Albanese website should be a warning for dogs too. "Consumption may cause stomach discomfort and/or laxative effect." If it could cause stomach issues in humans, you should definitely keep it away from your dog.
Can Dogs Eat Black Forest Gummy Bears
Black Forest gummy bears are popular because they are made with fruit juice. This doesn't mean they are good for dogs. All the corn starch, corn syrup, and sugar are very unhealthy for your pet to consume.
Can Dogs Eat Haribo Gummy Bears
Always keep the sugar-free Haribo gummy bears away from your dog. They are known to hurt human's stomach in a very painful way (flatulence and diarrhea are the main symptoms). They use the sugar alcohol maltitol which is found in the ingredient lycasin.
Can Dogs Eat Gummy Lifesavers
No, dogs should not eat gummy lifesavers. They might taste delicious, but they can cause tooth decay and diabetes, among other issues. Keep sugary candies like these away from your dog.
Can Dogs Eat Gummy Worms
They might be a different shape than gummy bears, but dogs should not eat gummy worms either. There are a few different types of gummy worms, so here is a bit more information about them.
Can Dogs Eat Sour Gummy Worms
Dogs might not like the taste of sour gummy worms, but that's not why you should keep them away from your pet. They are way too high in sugars and processed ingredients so they are bad for your pet.
Can Dogs Eat Trolli Gummy Worms
Dogs should not eat Trolli gummy worms, even if they would love chewing on them. The main ingredients in them is sugar and corn starch. If your dog eats them, they will be more likely to develop obesity and diabetes.
My Dog Ate Gummy Worms – What Do I Do
The very first thing you need to do is grab the bag so you can see what ingredients are in the gummy worms. You should also try to guess at how many you think your dog ate.
If the gummy worms are made with xylitol, then call your veterinarian immediately. Watch for signs of serious distress including lethargy, rapid heart rate, and stomach issues.
Can Dogs Eat Fish Oil Gummies
Dogs should not eat fish oil gummies. The gummies are still made with gelatin and sugars. You need to be careful with how much sugar you allow your dog to eat.
Can Dogs Eat Human Gummy Vitamins
No, dogs should never eat human gummy vitamins. They are usually made with xylitol. In fact, according to a veterinarian in North Carolina, "Gummy vitamins for children are becoming one of the leading sources of xylitol poisoning in dogs."
Keep the gummy vitamins away from your dog.
Can Dogs Eat CBD Gummy Bears
The most dangerous part of CBD gummy bears for dogs isn't the CBD – it's the sugar.
A very low dose of CBD could make your dog thirsty and really relaxed. If they consume too much CBD it could lead to a lower blood pressure. It's best to just keep the CBD gummies away from your dog.
Can Dogs Eat Hemp Gummies
There are lots of people that swear by the positive health effects of hemp for dogs.
As far as hemp gummies are concerned, the hemp might be safe for them but the sugar in the gummies could be a problem. If you want to give your dog hemp, don't do it in the form of gummies.
Can Dogs Eat THC Gummy Bears
It is important to keep THC gummies or edibles out of a dog's reach. Dogs accidentally consuming them is becoming increasingly common. Most signs that your dog ate some THC edibles will be:
Loss of balance
Drooling
Uncontrolled urination
Muscle tremors
The hard part is knowing how much your dog ate. Too much THC could put your dog into a coma.
If you suspect that your dog consumed cannabis, you must respond quickly. While marijuana can be bad for dogs, it's the xylitol in the gummies that could hurt them too.
The best thing to do is to call your veterinarian. They might ask you to induce vomiting but you shouldn't do that without their instruction.
Final Thoughts
Keep your dog as safe as possible and keep all forms of gummies away from them. If you think your dog got into some gummies, take note of what they ate and call your veterinarian.
The most dangerous ingredient is xylitol. Don't let your dog eat anything that has xylitol in it.
More Dog Food Resources
Here are some more articles about other human food and snacks and whether they are safe or toxic to dogs.
Find more articles about food dogs can eat here on Spoiled Hounds!
📌 Pin this to save and share 📌