We love to treat our pets as part of the family and, of course, part of that treatment is giving them a little bit of a taste of what we like to eat. It's always so tempting to brush a little bit of your vegetable prep from the cutting board onto the floor for your pup, but is it actually safe to do so?
Here I have a roundup of all the vegetable dogs can eat and vegetables that are harmful to dogs. This way you will never have to wonder if the little pre-dinner snack you gave them actually caused them harm.
In this list, you'll find everything you need to know about how certain vegetables can help create a healthier life for your dog or leave them with some serious stomach issues.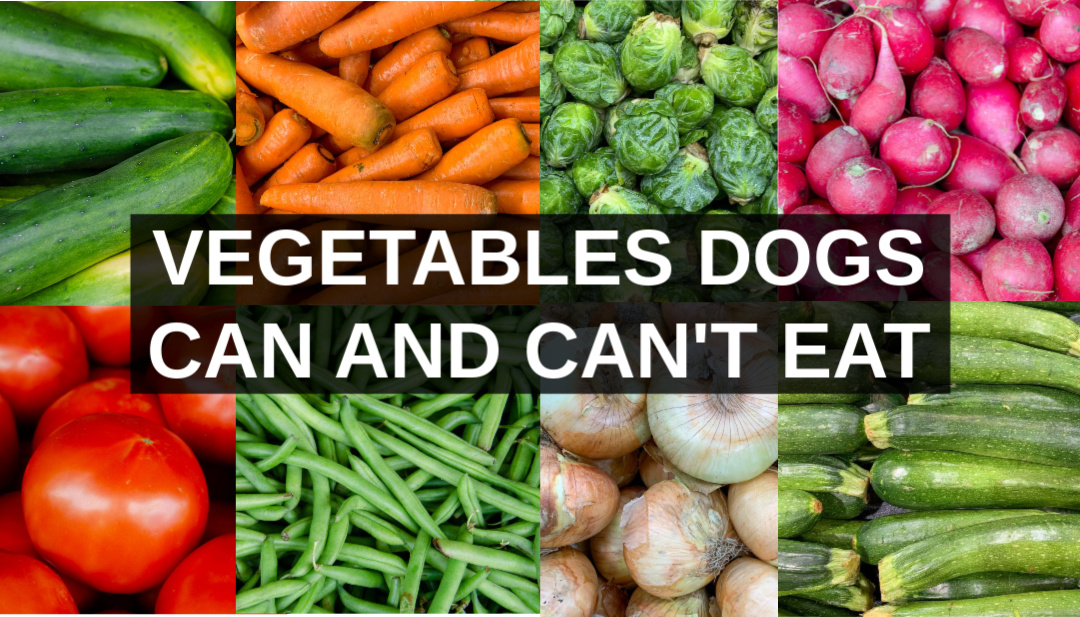 For ultimate pet safety, I recommend consulting with your vet prior to feeding your dog any food listed in this article.
Vegetables Dogs Can & Can't Eat Q&A List
Here is the comprehensive list of questions and answers about good and bad vegetables for dogs plus additional resources.
Can dogs eat asparagus?
Sadly, the first item on our list is no when it comes to whether or not you can feed asparagus to your dog. While it's not completely unsafe, it's just not worth it to risk giving to your pup. They can't eat it raw because its too rough and the softer cooked version loses most of the nutrients it would provide.
Can dogs eat broccoli?
Yes, broccoli is safe for dogs to eat, but in small quantities only. You can give it to them as an occasional treat replacement, but don't feed them broccoli on a regular basis. The isothiocyanates in broccoli can cause an upset stomach in dogs.
Can dogs eat Brussels sprouts?
While some of us might cringe at the thought of Brussel sprouts, your dog might think differently. Dogs can eat brussels sprouts, and they are actually loaded with nutrients. Just don't feed them too much, or you might have one gassy pup on your hands.
Read more about dogs and Brussel sprouts.
Can dogs eat carrots?
When it comes to vegetables dogs can eat, carrots are on the top of the list! Dogs can eat carrots and they are the perfect low-calorie snack your dog will love. Not only are they filled with various vitamins, but the crunchy texture is great for your dog's teeth.
Can dogs eat cauliflower?
Dogs can eat cauliflower, but just like broccoli, cauliflower has isothiocyanates which if consumed in excess can cause stomach problems. So, just don't make it part of your dog's regular diet and you'll be fine.
Can dogs eat celery?
Celery is another crunchy vegetable that is safe for dogs to eat. The nutrients celery contains can promote a healthy heart and is even known to help freshen your dog's breath.
Can dogs eat corn?
Dogs can eat corn, as long as it's not on the cob. The cob can not be digested and can cause a blockage if consumed. Unsalted canned corn is fine, but should not be supplemented as a regular part of a dog's diet.
Can dogs eat cucumbers?
Cucumbers are good for overweight dogs since they contain no carbohydrates, fats, or oils. They can also help boost energy levels in dogs because of the vitamins and nutrients packed in.
Read more about dogs eating cucumbers, peels, seeds, and more.
Can dogs eat green beans?
Dogs can eat green beans in any shape or form. Whether they are chopped, steamed, raw, or canned, all are safe for dogs to eat. Just make sure they are plain and not coated in a fattening sauce or covered in a spicy seasoning.
Can dogs eat mushrooms?
Yes, dogs can eat mushrooms but you have to make sure it's the right kind. Store-bought mushrooms are perfectly safe.
Mushrooms growing in the wild most certainly are not safe. Wild mushrooms, especially the ones you might see pop up in your backyard can be very toxic to dogs. Keep a close eye out and make sure they are not eating any wild mushrooms.
Can dogs eat onions?
The rule of thumb with this one is that dogs should not eat onions. Onions can poisonous to most pets, and can cause your dog's red blood cells to rupture. Eating onions might also lead to vomiting, diarrhea, stomach pain, and nausea.
Can dogs eat peas?
Pretty much all peas are on the yes-good list for your pet. Peas are right in vitamins, minerals, and are high in protein and fiber. The best types to feed them are fresh or frozen peas. It's best to stay away from canned because of the added sodium in canned vegetables.
Can dogs eat peppers?
When you ask "can dogs eat peppers?", it's a two-fold answer. Bell peppers would be yes and hot peppers would be no. Dogs can eat peppers as long as they are of the mild sort. Most dogs can not handle spicy food and will choke.
Read more about dogs and bell peppers.
Can dogs eat pumpkin?
Pumpkin is a bit of a superfood for dogs. It is full of vitamins and minerals that are great for your dog's health. Cooked is typically the best, but canned is still great and can be used for helping your dog lose weight.
Canned pumpkin fills up your dog's stomach without adding a lot of extra fat and calories. Pumpkin can both relieve and cause dog diarrhea and constipation. Consult with your vet before giving pumpkin to your dog for either of those conditions.
Can dogs eat radishes?
Radishes are fine for dogs to eat as an occasional treat, but they may not like the spicy taste. You can give it a try, but your dogs might spit it out and give you a look wondering why they didn't get a tasty treat. My dogs enjoy them and will come running for a radish treat.
Read more about dogs and radishes for all the varieties including black, daikon, watermelon, and more.
Can dogs eat snap peas?
Snap peas fall the same way other peas do as being safe for dogs to consume. Just like with most of the vegetables on this list, as long as it's in moderation you'll have a happy healthy pup.
Can dogs eat spinach?
Technically it's safe to feed your dog spinach in moderation, just don't go feeding them bag fulls on a daily basis. Spinach is very high in oxalic acid, which blocks their ability to absorb calcium and can lead to kidney damage. This won't happen if your dog is only getting an occasional serving of spinach, just don't feed them a bunch, or just avoid it altogether if you're concerned at all.
Can dogs eat squash?
When you're deep in chilly weather mode cooking up your favorite winter squash, you'll be happy to know you can reward your pup with a little bit too.
The vegetable is rich in vitamin A which can help improve your dog's eyesight. Dogs can eat cooked squash flesh as part of their diet, but not the skin or seeds.
Winter squash skin and seeds are toxic to dogs. Do not feed your dog raw winter squash.
Can dogs eat sweet potatoes?
Sweet potatoes are okay for your dog to eat as long as it's in moderation and they are cooked and mashed or cut into bite-sized pieces. Do not feed your dog raw sweet potatoes. You can add some to their dog food to get your dog the extra nutrients it needs without all of the calories.
Can dogs eat tomatoes?
Typically your dog should not be eating tomatoes. Technically the ripened tomato plant is considered okay, unripened green tomatoes can be toxic for dogs.
So to avoid any mishaps with tomatoes, it's best to just leave them out of your dog's diet altogether. Tomato vines and leaves are toxic to dogs.
Can dogs eat turnips?
Small quantities of turnips are okay for your dog to eat, just don't go overboard with it. Add some pureed turnip roots or greens to your dog's food to add some extra fiber, vitamin C, Vitamin B-6, and magnesium.
Read more about dogs and turnips.
Can dogs eat zucchini?
This low in fat and nutrient-filled vegetable is great for dogs to snack on. Dogs can eat zucchini as a healthy snack when you don't want them eating boxed treats all the time. Some people feed their dog zucchini as a deterrent for dogs eating poop.
Additional Resources
Take a look at these great articles about foods for dogs and homemade dog treats:
I hope you have found this list of vegetables dogs can eat and vegetables harmful to dogs helpful. Please comment if you have any questions or insight about vegetables for dogs.
📌 Pin this to save and share 📌