Are these garden vegetables safe for dogs? Can dogs eat turnips? Keep reading and learn what to do if your dog eats one.
Turnips are pretty common in backyard gardens. Keep reading and discover everything you need to know about turnips and whether they are safe for your dog.
For ultimate pet safety, I recommend consulting with your vet about all the questions you have about your dog eating turnips.
Can Dogs Eat Turnips
The good news is that turnips are safe for dogs and even really good for your dog to eat! The only dogs that should avoid turnips are ones with thyroid issues since the turnips can suppress the functioning of their thyroid.
Let's look closer at turnips – how good they are for your dog, and what to watch out for.
Are Turnips Good For Dogs
Turnips are healthy for dogs to eat. The vitamin C strengthens their immune system and the B vitamins in the turnips give them a natural source of energy.
They are also an excellent source of folic acid and magnesium.
Turnips help your pet's metabolism and support a healthy nervous system. They also stimulate healthy kidney function – so if your dog has kidney disease, consider letting them eat some turnips.
Are Turnips Bad For Dogs
Be careful with how much you allow your pup to eat. Turnips are really high in fiber and eating too much can give them digestive issues.
Dogs with thyroid issues should avoid turnips too, since they could interfere with thyroid function.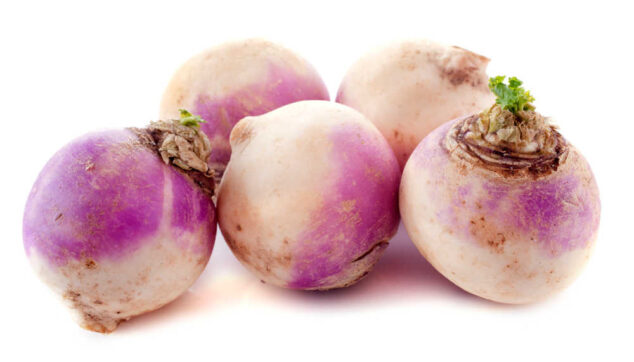 Can Dogs Eat Turnip Roots
Turnips are a root vegetable. There are two parts to a turnip – the bulbous root and the leafy greens on top.
It's safe for dogs to eat the turnip roots in moderation. You can chop and sprinkle raw turnips and mix them in your dog's dinner bowl.
You can also cook the turnip roots and mash them up for your dog to eat that way.
Can Dogs Eat Japanese Turnips
Dogs can safely eat Japanese turnips. These are also called Hakurei, or Tokyo turnip. It is also referred to as a salad turnip since it is crisp and has a pleasant raw flavor.
Can Dogs Eat Raw Turnips
It is safe for dogs to eat raw turnips. Be careful with how much they eat. It's best to chop up the turnips and mix them in your dog's food instead of just letting them eat as much as they want.
Raw turnips can regulate your dog's metabolism, so they are a good supplement to add to their food if they are struggling with their weight.
Can Dogs Eat Cooked Turnips
The best way to give your dog turnips is to cook them and mash them up, like mashed potatoes. Moderate how much you give your dog. If they eat too much, it can cause digestive issues like diarrhea.
If you cook turnips, do not use very many spices. Avoid onion and garlic since they are harmful to dogs.
Can Dogs Eat Pickled Turnips
Since dogs shouldn't eat onion or garlic, it's best to avoid pickled turnips for your dog. There is always the chance that the pickled turnips might contain one of these spices.
You also don't want your dog to eat too much salt and pickled vegetables often have lots of salt, too.
Can Dogs Turnip Greens
Turnip greens are safe for your dogs to eat as long as you wash them and steam them first. To help your dog digest them, steam the leaves and chop them up first.
Can Dogs Eat Turnip Skin
Yes, dogs can eat the turnip skin. If you peel them first, it will help your dog digest the turnips, so it's always a good idea to do this. Just know that it is safe for dogs to eat them with the skin on.
Can Dogs Eat Turnip Flowers
Turnip flowers are edible but aren't a popular treat for dogs due to their taste. Dogs can safely eat them, but it is best if you wash them and chop them up before you give them to your pet.
Final Thoughts
Turnips are safe for dogs to eat, just be careful with how much they eat. You should always moderate how much high-fiber foods your dog eats. Too much fiber can lead to diarrhea or other stomach issues.
If your dog has a thyroid condition, don't let them eat turnips. They have goitrigen which is a substance that suppresses thyroid function.
Cooked or raw, turnips are really good for your dog to eat in addition to a well-rounded diet.
More Dog Food Resources
Here are some more articles about other meats and fruits and whether they are safe for your dog to eat.
Find lots more articles on food dogs can and can't eat here on Spoiled Hounds.
📌 Pin this to save and share 📌