Famous people, celebrities, athletes, artists, singers, and musicians positively impact our lives with their talent. We admire them and sometimes the admiration is reflected when naming our pets.
These notable people and music inspired whippet names are tremendously fun and creative. It's an interesting variety, from science to soul.
And, of course, it is one of the best dog name lists because it has pictures! You can see the whippet that actually has the name.
What could be better than looking at adorable whippets with remarkable names? Well, it would be awesome if you could reach in and pet them too. Unfortunately, that particular technology doesn't exist.
So what are you waiting for? Scroll on down and get ready to smile.
A very special thanks to all the kind whippet owners who allowed me to use their photos for this article.
People Inspired Whippet Names
So much fun to see whippets named after someone the owner admires, a celebrity, or a famous person. Many are very creative and unique.
Jetstream Forgetmenot Playboy
Call name: Hefner
Part of Playboy Litter. He's a Toronto Whippet who races, courses, and models in Art School.
Lazarus
Because he was found in such terrible shape and by the grace of God he survived. So we named him after the friend that Jesus raised from the dead.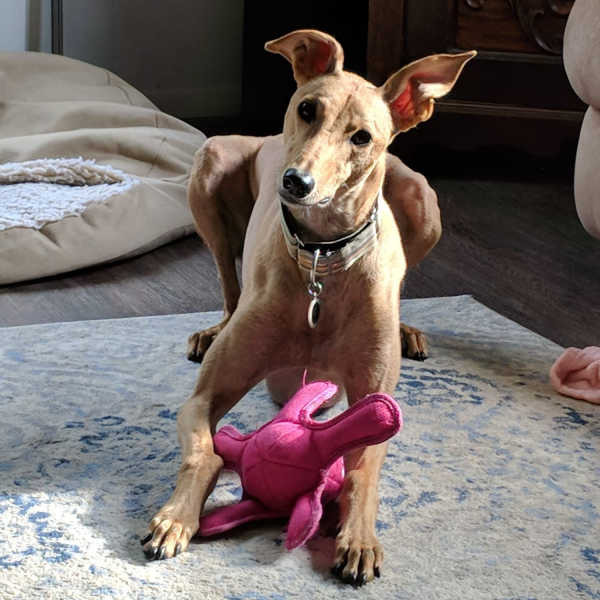 Spartacus Williamson
His owner says he has the body of a gladiator and the mind of a mouse.
Taliesin Wonderstruck Apolo in Motion
Call name: Skate
Named after the speed skater Apolo Ohno.
WildAbout Red Hot
Call name: RuPaul
His owner says he's living up to his flamboyant name.
Music Inspired Whippet Names
Exceptional dog names inspired by music, musicians, or people in the music industry.
Chelsea Kiss Me Softly You Little Mynx
Call name: Mynxees
Eddie Vedder
His owner's last name is Vedder so she had to name him Eddie.
Led Zeppelin's Black Dog
Call name: Zeppelin
North Star Bat Out of Hell
Call name: Meat Loaf
SaeSi Rockin' Rhythm
Call name: PhintStone
Shetaras She Smiled Sweetly
Call name: Fleur
Named after the partial Fleur de Lis over her right hip. Registered name after the Rolling Stones track "She Smiled Sweetly". She has grown into that name quite a bit.
Sovereign Prince of Punk
Call name: Sid Vicious
The Funk Soul Brutha
Call name: Homey
The Queen of Soul
Call name: Aretha
Twitch
Named after the hip hop dancer.
Wildbriars Who Owns My Heart at Eryas SC
Call name: Miley
Miley's liter was named for the celebrity judges on The Voice (Miley Cyrus) so she arrived with her call name at 6 months. We were to choose a song title from their namesake's song library. I chose "Who Owns My Heart".
What great people and music inspired whippet names! Which one is your favorite? Leave a comment and let me know.
Want to see more? Take a look at these:
Enjoyed this list? Please share it with your friends. You might make someone's day. They may be a fan of one of the people or music on the list.
Curious about whippets? Take a look at the American Kennel Club Whippet Information.
📌 Pin this to save and share 📌