Your pup will love these homemade popsicles for dogs with peanut butter and yogurt! Not only are they delicious, but they are fun for your furry friend to eat, too!
These are a cool treat for hot summer days that will soon become one of your dog's favorite treats. This is the perfect way for your canine companion to cool off when it's hot out.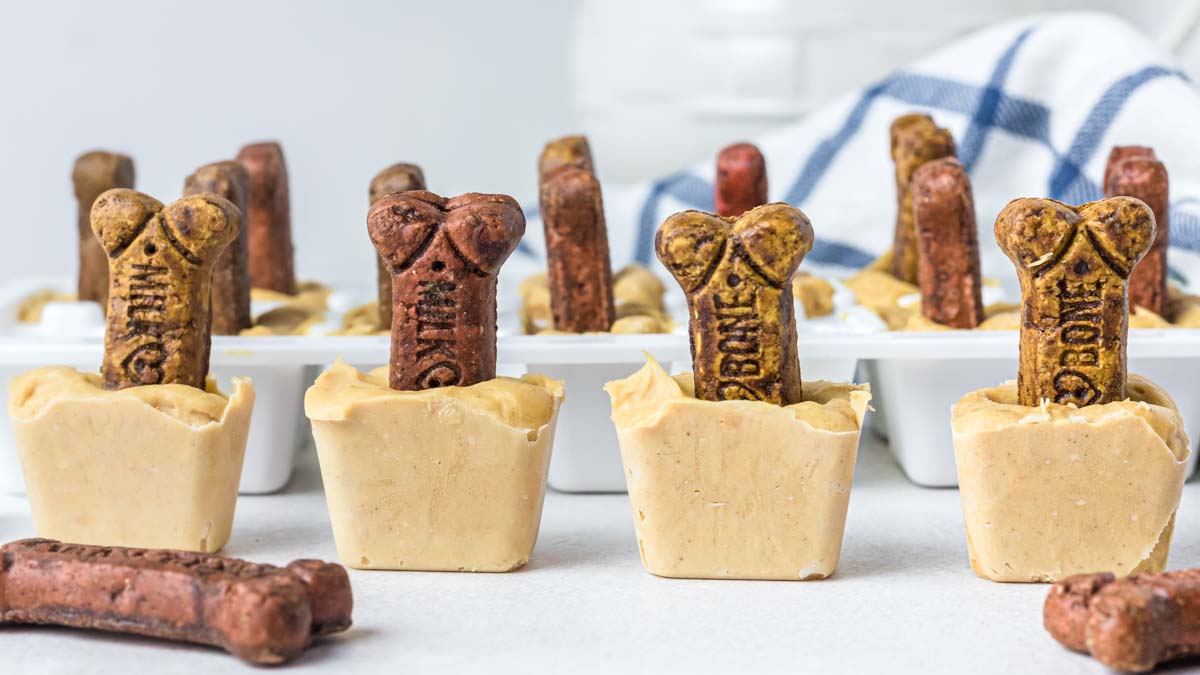 FYI – This post contains affiliate links. As an Amazon Associate, I earn from qualifying purchases.
The Best Things About Dog Popsicles
Have you ever been enjoying a popsicle, only to have your furry friend beg for one too? When you have a batch of these frozen treats on hand, you can give your dog their own special treat made just for them.
These treats are made with natural ingredients that your dog is going to love!
Not only does giving your pet a pupsicle make it feel like they are sharing treat time with you, but they are actually good for your pup too. This peanut butter yogurt dog popsicle recipe has 3 simple ingredients that are fantastic for your pet's health.
These popsicles are a wonderful way to help your dog cool down on a hot day. Since they are made without ice cream, they are a healthy frozen treat.
Benefits of Peanut Butter for Dogs
Peanut butter is high in protein which is essential in a dog's diet. It helps with building and repairing muscle.
Peanut butter has healthy fats that are important for a dog's skin, maintaining it and improving dry coats or irritated skin.
It is also a good source of nutrients including magnesium for helping cells metabolize B complex vitamins and folic acid for cell growth. Of course, you never want to go overboard with peanut butter, but small amounts are good for dogs.
Benefits of Yogurt for Dogs
Yogurt is one of the dog-safe dairy products that provide probiotics beneficial to a dog's digestive system. It is also a great source of calcium which is essential to a dog's bones.
Greek yogurt has less lactose than regular yogurt and is the best type of yogurt for dogs. That's why I used Greek yogurt in these puppy popsicles.
Recipe Ingredients
The entire list of ingredients and the step-by-step directions are in the printable recipe card at the bottom of this article. First, I want to share some additional information about the ingredients I used in this dog popsicles recipe.
Here's a list of what you need, all of which you can find at a grocery store. You must use organic ingredients if you want to make organic dog popsicles.
Natural Peanut Butter – The main flavor of these popsicles and something most dogs love.
Plain Yogurt – They are also frozen yogurt popsicles.
Dog Biscuits – This is what I used as the popsicle sticks.
Important Note About Peanut Butter and Yogurt
Do not use peanut butter or yogurt that contains xylitol. It is a sweetener that is toxic to dogs.
It's always a good idea not to give your dog any food that contains artificial sweeteners. Give them whole food that is nutritious and safe for them to eat.
Other Edible Popsicle Sticks for Dogs
If you don't want to use a dog biscuit for a pupsicle stick, here are some other options:
Bully Sticks
Carrot Sticks
Green Beans
Parsnip Sticks
Recipe Variations
There are lots of different ways you can change this easy recipe. Maybe add a little ripe banana to the popsicles. Simply place a banana piece in the ice trays before filling it with the peanut butter yogurt mixture.
If your dog likes savory treats more than sweet ones, make ice cubes out of chicken broth instead of peanut butter.
Or, freeze pumpkin puree and place it inside the popsicle moulds. You could also puree cooked sweet potato in a food processor and freeze that instead of peanut butter.
No matter how you make them, these cold treats are perfect during the dog days of summer.
Equipment Needed
You probably have most of the kitchen items you need to make these dog ice pops. But just in case, here's a list of them:
Measuring Cups
Mixing Bowl
Mixing Spoon
Alternate Equipment
Instead of an ice cube tray, you can use:
Silicone molds shaped like dog bones or paws. It may be difficult to get the dog biscuit to stand up in them. Either lay the biscuit on top or don't use it.
Mini Popsicle Molds – Make sure the popsicle mold is small like for a baby or toddler. You do not want to make large popsicles that are too much for a dog serving.
Small paper cup like a bathroom cup.
How to Make Popsicles for Dogs
These are the recipe steps and photos of the process for making these peanut butter yogurt popsicles for dogs. I hope they help you make this healthy pupsicles recipe!
You can scroll down to the bottom of this article for a printable recipe card.
Place the peanut butter and yogurt in a mixing bowl.
Stir to combine peanut butter and yogurt until well combined and the mixture is smooth.
Spoon or pour mixture into an ice cube tray. Fill each cube 3/4 full.
Push a dog biscuit down into the middle of each cube.
Freeze for at least 2 hours, or until frozen solid.
Remove the frozen dog popsicles from the tray.
Serving Size
How many homemade dog popsicles should you give your dog at once? One is plenty. Peanut butter and regular, full-fat yogurt combined makes a high-fat treat. Too much fat can cause pancreatitis in dogs.
Dogs shouldn't overeat. They should not consume too many calories with dog food and treats. It is important to keep dogs at a healthy weight. For this reason, I suggest giving your spoiled hound only one of these peanut butter pupsicles per day.
How to Store Peanut Butter Dog Popsicles
Store the popsicles in a freezer-safe container or plastic freezer bag in the freezer for up to 3 months.
Can humans eat peanut butter popsicles for dogs?
Oh yes, they sure can! All the ingredients in these popsicles for dogs are safe for human consumption. But I'm absolutely certain folks won't like them because of the dog biscuit popsicle sticks.
To make them for people, use a regular wood or plastic ice pop stick instead of the dog biscuit.
📌 Pin this to save and share 📌
Great Dog Treat Recipes
Want to make more treats for your dog? Check out these easy dog treat recipes:
Find lots of healthy dog treat recipes here on Spoiled Hounds.
Want to get some store-bought treats instead of making doggie popsicles? Check out my favorite dog treats on Amazon.
I hope your dog enjoys the popsicles! Give belly rubs from me.
Peanut Butter Dog Popsicles
Peanut Butter Pupsicles are a tasty frozen treat for dogs on a hot day.
Ingredients
1

cup

Plain Yogurt

1

cup

Creamy Peanut Butter

14

Dog Biscuits
Instructions
In a small mixing bowl combine yogurt and peanut butter until smooth.

Spoon the mixture into an ice cube tray, filling each cube ¾ full.

Push a dog biscuit into the middle of each cube.

Freeze the tray for a minimum of 2 hours.

Remove the popsicles from of ice cube tray.
Notes
Store dog popsicles in a freezer-safe airtight container or zip-top freezer bag in the freezer for up to 3 months.
Be sure the peanut butter does not contain xylitol as it is toxic to dogs.
Plain yogurt with no artificial sweeteners is best for dogs.
Ice cube trays vary in size but typically hold 16 ounces of liquid. The one I was using had a variety of sizes on the tray and made 14 treats. Some trays will make 16 (1-ounce) treats.
Nutrition
Calories:
122
kcal
|
Carbohydrates:
4
g
|
Protein:
5
g
|
Fat:
10
g
|
Saturated Fat:
2
g
|
Polyunsaturated Fat:
3
g
|
Monounsaturated Fat:
5
g
|
Cholesterol:
2
mg
|
Sodium:
93
mg
|
Potassium:
147
mg
|
Fiber:
1
g
|
Sugar:
3
g
|
Vitamin A:
17
IU
|
Vitamin C:
1
mg
|
Calcium:
29
mg
|
Iron:
1
mg