These homemade low fat dog treats are made with oat flour, oats, pumpkin, and applesauce. They are a tasty snack for your furry friend!
So if you are looking for a great recipe for healthy low fat treats for dogs, you've found it! Now you can make your own with simple ingredients.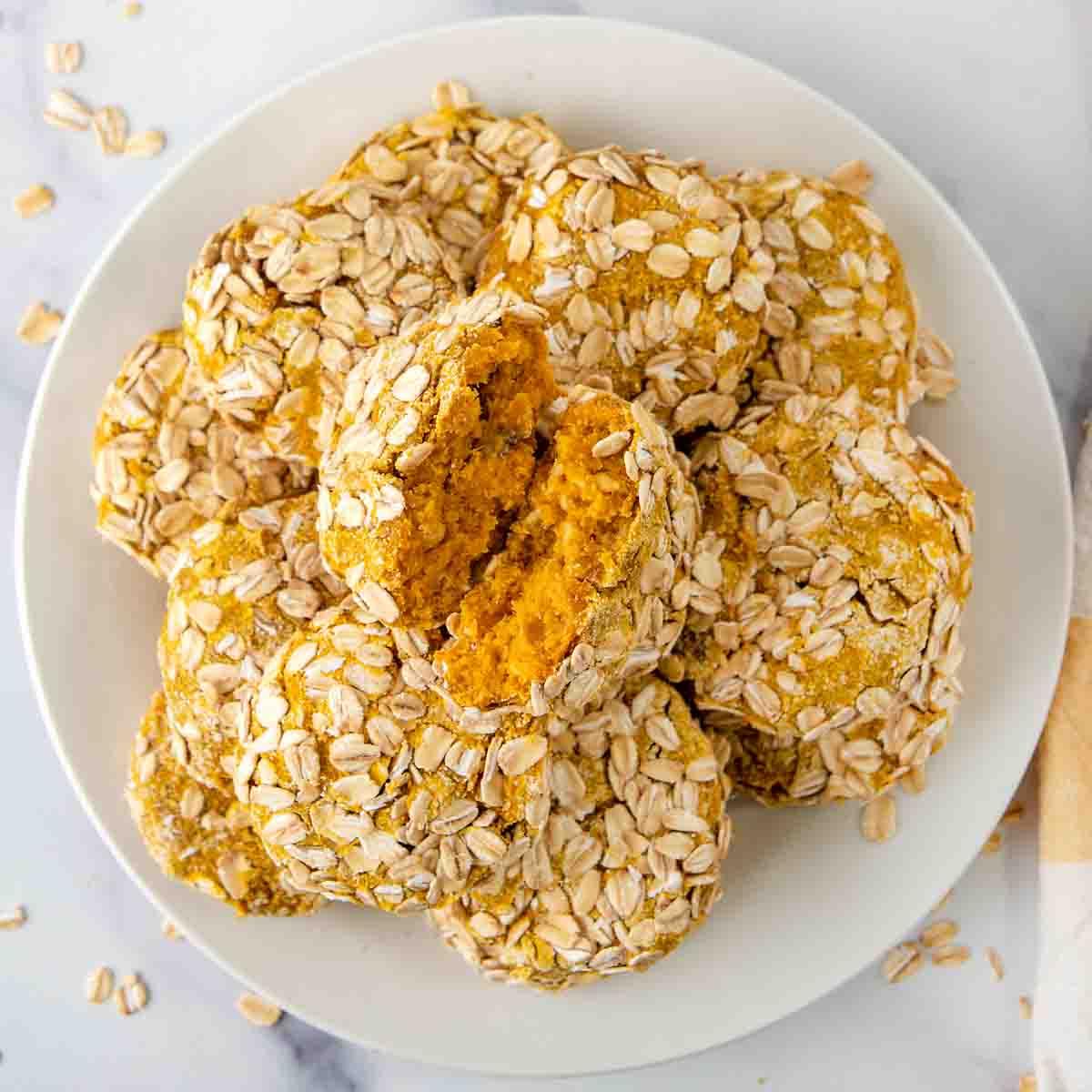 FYI – This post contains affiliate links. As an Amazon Associate, I earn from qualifying purchases.
Easy Low Fat Dog Treats Recipe
It doesn't take a lot of time to make these tasty treats. You don't have to roll out the dough and cut it with cookie cutters. Just shape it into balls and bake. The total time to make the treats is about 30 minutes.
Great for obese dogs in a weight loss plan. Not only are these low fat, they are also low calorie dog treats.
They're also great treats for dogs with pancreatitis or other health issues that require a low fat diet.
Best Treats For Obese or Overweight Dogs
This homemade dog treat recipe is a great way to give your dog something tasty without worrying about it affecting their calorie intake.
Since you'll form them into bite-sized pieces, you don't have to worry about your pup overeating them. Plus, making your own dog treats lets you control all the ingredients. So if you think your dog needs to eat more fiber or protein, you can adjust the recipe.
This is a great option if your dog still asks for treats but you want to restrict their calorie intake and help them shed pounds.
The Best Things About Low Fat Homemade Dog Treats
Your furry friend will gobble up homemade treats and making them is a fantastic way to save money too! These natural dog treats cost less than store-bought and have dog-safe ingredients with no preservatives.
One treat has only 2 grams of fat.
These baked dog treats have a soft texture so they are great for senior dogs or dogs without teeth. They are full of wholesome ingredients that will help your dog maintain a healthy weight too.
Recipe Ingredients
The entire list of ingredients, quantities of each, and the step-by-step directions are in the printable recipe card at the bottom of this post – including nutritional information. First, I want to share a bit more information about the delicious ingredients.
Here's a list of what you need for this low fat dog biscuit recipe. If you want to make organic dog treats, make sure you use organic ingredients.
Oat Flour – The base for the baked treats. Has healthy fats which lower the risk of heart disease.
Old-Fashioned Rolled Oats – For texture and added nutrients such as folic acid.
Banana – A healthy fruit that helps bind the dough. A great source of Vitamin C, Vitamin B6, and essential fatty acids.
Pumpkin Puree – A healthy vegetable dogs love.
Unsweetened Applesauce – Adds moisture and a little sweetness.
Ingredient Notes and Substitutions
When you make this easy recipe for low fat dog treats, here are a few notes to keep in mind:
You can substitute pumpkin with plain mashed sweet potatoes or shredded carrots.
Do not use pumpkin pie filling because it may contain spices toxic to dogs.
You can make your own oat flour by placing uncooked old-fashioned rolled oats in a blender and blending until it has the consistency of flour.
For very low fat treats, substitute oat flour with brown rice flour. There are only 2.2 grams of fat in 1 cup of rice flour. They will also be low fat grain free dog treats.
If you use any other type of flour, such as all-purpose flour or whole wheat flour, the end results may vary due to the difference in the flour. They will not be gluten-free if using flour made from wheat.
Equipment Needed
You probably have most of the kitchen items you need to make these treats. Here are a few of them just in case:
How to Make Low Fat Dog Treats
These are the recipe steps and photos of the process for making low fat dog treats. I hope they help you make this healthy dog treats recipe!
You can scroll down to the bottom of this article for a printable recipe card.
Slice the banana and place the banana slices, pumpkin puree, and applesauce in a medium bowl.
Stir them until combined and smooth.
Add the flour and oats to the mixing bowl.
Stir until everything is mixed together.
Scoop out the dough and shape it into balls. Coat the balls with oats. Place them on a baking sheet lined with a silicone mat or parchment paper (or use a non-stick baking sheet).
Bake in a conventional oven at 350°F for about 20 minutes.
Transfer the baked treats to a wire rack to cool.
Serving Size and Information
How many homemade dog treats should you give to your canine companion? That depends on what else they ate that day because you need to consider your pet's total daily intake. Being mindful of a dog's food consumption is just as important as it is with a human family member.
It also depends on the size of your dog. Small dogs need fewer calories than larger dogs. Maintaining a dog's healthy weight is important, so keep that in mind when feeding your dog treats in addition to their regular food.
Dogs also shouldn't overeat too many carbs, including healthy homemade dog treats. For this reason, I suggest only giving your pup one treat per day. Or perhaps two on special days.
How to Store Homemade Low Fat Dog Treats
Place the cooled treats in an airtight container or plastic zip-top bag. Store them in the refrigerator.
How long do homemade low fat dog treats last?
These homemade low fat dog treats will last up to 5 days when stored in the fridge in a sealed container.
For longer storage, place them in a freezer-safe container or plastic freezer bag and freeze them. They will last up to 3 months when frozen. You can also use a vacuum sealer if you have one.
Can humans eat these low fat treats for dogs?
They sure can! Everything in these dog treats is safe for human consumption.
More Homemade Dog Treat Recipes
Want to make more tasty treats for your dog? Check these out:
Not in the mood for making homemade dog treats? Check out my favorite dog treats on my Amazon dog treats list.
Low Fat Dog Treats
Tasty low fat dog treats are a healthy snack for your furry friend.
Ingredients
1

Ripe Banana

½

cup

Unsweetened Applesauce

1

cup

Pumpkin Puree or Shredded Carrots

2

cups

Oat Flour

½

cup

Old Fashioned Oats

divided use
Instructions
Preheat oven to 350°F.

Slice the banana into a medium bowl.

Add applesauce and pumpkin puree. Stir to combine until the mixture is smooth.

Add flour and ¼ cup of oats and mix well.

Scoop out a tablespoon of the mixture and roll it into a ball. You may need a little flour to coat your hands.

Roll the ball in the remaining oats.

Repeat making the balls with the dough and oats.

Place the balls on a non-stick baking sheet or a baking sheet lined with parchment paper or silicone mat.

Bake for 18 to 22 minutes.

Transfer the baked treats to a wire rack to cool to room temperature.
Nutrition
Calories:
85
kcal
|
Carbohydrates:
15
g
|
Protein:
3
g
|
Fat:
2
g
|
Saturated Fat:
0.3
g
|
Polyunsaturated Fat:
1
g
|
Monounsaturated Fat:
0.5
g
|
Sodium:
4
mg
|
Potassium:
128
mg
|
Fiber:
2
g
|
Sugar:
2
g
|
Vitamin A:
2390
IU
|
Vitamin C:
1
mg
|
Calcium:
14
mg
|
Iron:
1
mg