These homemade dog treats without flour are made with 4 simple ingredients. Baked, crunchy treats for dogs with the goodness of oats, natural sweetness of pumpkin, and yummy flavor of cinnamon.
If you want to eliminate wheat from your dog's diet or just looking for tasty treats to make, this recipe is for you! Your furry friend is going to love them – and they are so good for them you'll enjoy spoiling them with these yummy treats. Add these to the list of homemade dog food ideas that you already have.
FYI – This post contains affiliate links. As an Amazon Associate, I earn from qualifying purchases.
Why These Dog Treats without Flour Are the Best
Your dog is going to love these flour-free dog treats! And you won't mind making them because they are as easy as drop cookies! When time is short and just want to make some super-fast doggie cookies, this is the best of all the flourless dog treats recipes!
Not only are these homemade dog treats without whole wheat flour, but they are also:
Dog treats without eggs
Dog treats without sugar
Dog treats without artificial sweeteners
Dog treats without preservatives
You probably already have all of the ingredients that you need to make these pumpkin dog treats without flour. Yep, I used pantry staples to make this dog treat recipe.
The best part about this recipe is that these DIY dog treats are made with whole, vegan, and healthy ingredients – so they are actually good for your dog. Your pup will think they are eating a treat, but you will know they are eating nourishing food that is a good as a vitamin.
Homemade Pumpkin Dog Treats without Flour
Dog treats with oats and pumpkin are some of the best healthy dog treats you can make. They are a gluten-free treat that is high in dietary fiber.
They are a great way to add a little nutrition into your dog's diet.
Want to know what is so healthy about them? I'll give you the nutrition information about these all-natural dog treats here in this post.
If you enjoy baking healthy dog treats, then this no flour dog treats simple recipe is just for you!
The crunchy homemade dog treats recipe is just a little further below. First, here's more about a couple of the ingredients and why I chose to use them.
Benefits of Oats
Did you know that oats have a lot of healthy nutrients? That's why dog treats with oats are a great thing to make your fur babies! These treats are gluten-free, so you can give them to your pet if they have issues with wheat.
Oats have vitamin B which helps your pet maintain a healthy coat. It's also a good source of omega-6 fatty acids that helps keep a dog's skin strong and healthy.
Just like pumpkin, oats have soluble fiber in them. The fiber will help them regulate glucose levels and give them relief if they are having trouble pooping.
Benefits of Pumpkin
I use pumpkin puree, not pumpkin pie filling, in this recipe. It's best to keep the amount of added sugar low when you make dog treats. Dogs do not need any extra sugar in their diet, and these are sweet enough without it. Also, pumpkin pie filling may contain spices toxic to dogs.
Pumpkin is one of the healthiest ingredients in these homemade dog biscuits. It is high in vitamin A, fiber, and disease-preventing antioxidants.
Not only are these a special treat that even a picky eater will love, but you can give them as a great gift for dog moms and canine friends!
Dog Treats without Flour Recipe Ingredients
The detailed ingredient amounts and step-by-step directions are in the printable recipe card at the bottom of this article. First, I want to share some information about the ingredients in these flourless dog treats.
Here's a list of what you need to make these easy dog treats. There are only 4 simple ingredients! Use organic ingredients if you want to make organic dog treats.
Quick Oats – Both whole and ground up with a food processor or blender.
Pumpkin – Use plain pumpkin puree. Do not use pumpkin pie filling because it may contain spices that are toxic to dogs.
Applesauce – To naturally sweeten the treats and add moisture to the dough.
Cinnamon – A healthy and safe spice for dogs that adds flavor and smells yummy.
Ingredient and Recipe Notes
When you make this dog treats recipe, there are a few things to keep in mind.
Instead of canned, you can use homemade pumpkin puree. That speeds up the process in these homemade treats.
Want to make homemade dog treats without pumpkin? Substitute baked or boiled sweet potatoes for the pumpkin puree.
If you don't have a wire rack to let the treats cool, you can place them on a silicone mat or sheet of parchment paper.
If you don't have any silicone treat trays, you can roll the dough out, use a cookie cutter, cut out the shapes, and bake them on a cookie sheet.
If you are going to use cookie cutters, roll out the dough on a flat surface.
Other options instead of cookie/candy molds include silicone ice cube trays or mini muffin tins. Yes, you can make little muffins for dogs with this dough!
Other options instead of cookie cutters include a biscuit cutter or the rim of a drinking glass.
However you decide to cut them, just keep them in small pieces so they are easier for your dog to eat. This is going to become one of your favorite simple dog treat recipes of all time.
Serving Size
How many homemade dog treats should you give your dog at once? It depends on the size of your dog and what else you gave your pet to eat that day. This might be a healthier treat, but it is still a treat.
Treats should not make up the majority of your dog's calorie intake. They should be something they eat on rare occasions, along with healthy dog food.
Dogs shouldn't overeat too many carbs – even healthy ones from oats and pumpkin. For this reason, I suggest only giving your spoiled hound one treat per day.
Equipment Needed
You probably have most of the kitchen items you need to make these homemade pumpkin dog treats without flour. You can use any regular silicone candy mold but a dog bone or paw shape mold gives these treats a fun look.
Measuring Cups
Large Bowl
Rolling Pin
Parchment Paper
How to Make Dog Treats without Flour
These are the recipe steps and some photos of the process for making the treats. I hope they help you make this healthy dog treats recipe!
You can scroll down to the bottom of this article for a printable recipe card.
Pulse 2 cups of quick oats in a food processor or blender to create a coarse flour-like consistency.
Place the whole and ground oats along with cinnamon in a large bowl. Stir to combine.
Add the pumpkin and applesauce to the oats and combine well.
Press the dough into silicone molds. Place the molds on a baking sheet.
Bake at 350 degrees for 15 minutes.
Transfer the baked treats to a wire rack to cool to room temperature.
Don't have any cookie or candy molds? You can roll out the dough and use cookie cutters to cut the dough.
You will need to refrigerate the dough for about 30 minutes before rolling it out. You may need to add more finely ground oats or oat flour if the dough is too sticky to roll out.
How to Store Baked Dog Treats
Store the DIY dog treats in a container for dog treats. You can store them at room temperature in an airtight container.
A dog treat jar is best so they are not mistaken for human treats. Here are some cute ones on Amazon:
How long do homemade dog treats last?
If stored in an airtight container at room temperature, these baked dog treats should last for 7 to 10 days. For longer storage, refrigerate them for up to 2 weeks or freeze them for up to 3 months.
Can you eat dog treats?
Sure thing, you can eat these treats! All of the ingredients are safe for human consumption. But I doubt you would enjoy them since they aren't sweet. I suggest making Pumpkin Oatmeal Cookies to enjoy and share with family and friends.
Can Dogs Have Flour In Treats?
Yes, dogs can have flour in treats. The only time they shouldn't is if they are sensitive or allergic to gluten, or if they are overweight. These flourless treats have lots of healthy fats in them that are good for your dog's heart.
Dogs can safely eat treats made with any of the following types of flour:
Oat Flour
Brown Rice Flour
Coconut Flour
Gluten-Free Flour
All-Purpose Flour
Can you make dog treats with regular flour?
Yes, it is safe to give your dog treats made with regular flour. The only downside to all-purpose flour is that it is higher in sugar and carbs, which could cause your pet to gain weight. It's always best to make sure your dog eats a healthy diet low in sugar and carbs.
📌 Pin this to save and share 📌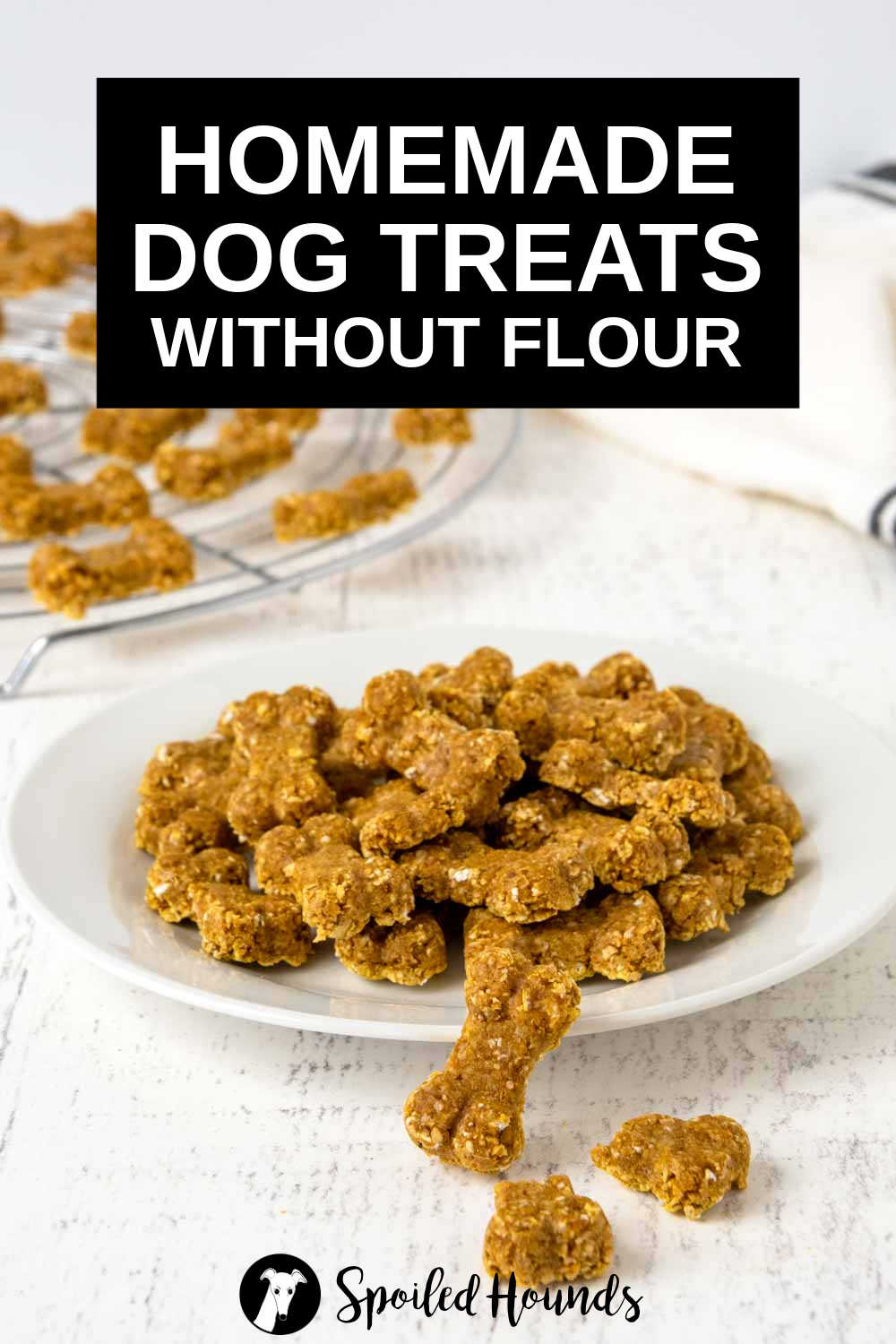 Popular Homemade Dog Treat Recipes
Want to make more treats for your dog? Here are some different types of dog treats to make:
Find more easy dog treat recipes here on Spoiled Hounds!
Want to get the best store-bought dog treats instead of making homemade ones? Check out these favorite dog treats on my Amazon dog treats ideas list. There's also my list of the Best Treats for Whippets.
Homemade Dog Treats without Flour
Make the best homemade dog treats without flour and simple ingredients.
Ingredients
3

cups

quick oats

divided

1

teaspoon

cinnamon

½

cup

canned pumpkin puree

½

cup

applesauce
Instructions
Preheat oven to 350 degrees Fahrenheit.
Dough
Divide the quick oats. Leave 1 cup whole, pulse the remaining 2 cups in a food processor or blender to create a coarse flour-like consistency.

Combine the whole and ground oats and cinnamon in a large bowl.

Add the pumpkin and applesauce and combine well.

If you want to have dough you can roll out and cut, place the dough in the refrigerator for about 30 minutes.
Silicone Mold Method
Press the dough into silicone cookie/candy molds.

Place the molds on baking sheets.
Roll and Cut Method
Roll the dough out onto a flat surface and until about ½ inch thick. If the dough is still too sticky to roll, add a little more ground oats to make it drier.

Using your favorite cookie cutter, cut out as many shapes as possible. Re-roll and form as necessary until all the dough is used up.

Place the cut out treats on a baking sheet. You can line the sheet with parchment paper or non-stick mat if desired for easy cleanup.
Baking and Storing
Bake at 350 degrees for 15 minutes.

Transfer the treats to a wire rack and cool them to room temperature.

Store treats in an airtight container.
Nutrition
Calories:
16
kcal
|
Carbohydrates:
3
g
|
Protein:
1
g
|
Fat:
1
g
|
Saturated Fat:
1
g
|
Polyunsaturated Fat:
1
g
|
Monounsaturated Fat:
1
g
|
Sodium:
1
mg
|
Potassium:
20
mg
|
Fiber:
1
g
|
Sugar:
1
g
|
Vitamin A:
318
IU
|
Vitamin C:
1
mg
|
Calcium:
3
mg
|
Iron:
1
mg