Your pup will love these homemade pupcakes! They are made with apple, applesauce, banana, and oatmeal, so they are a tasty and healthy treat for your dog.
They aren't just healthy – these dog cupcakes are a great DIY treat for dog birthday parties too. They look good enough for humans to want to sneak a bite!
FYI – This post contains affiliate links. As an Amazon Associate, I earn from qualifying purchases.
The Best Things About Pupcakes for Dogs
Have you ever sat down with a cupcake, only to have your four-legged friend beg with those sad little eyes? When you have a batch of these dog-friendly cupcakes on hand, you can give Fido their own treat that is made just for dogs.
Not only does giving your dog a cupcake make it feel like they are sharing treat time with you, but they are good for your puppy too. This pupcake recipe is made with natural ingredients – apples, bananas, and oat flour – all of which are fantastic for your pet's health.
Homemade pupcakes ensure there are no artificial sweeteners in them. It's important because one sweetener, xylitol, is highly toxic to dogs.
Benefits of Apples for Dogs
This apple pupcakes recipe is full of nutrients. Apples have vitamin C which will boost your pet's immune system. They are also a fantastic source of fiber, which is fantastic for their gut health. If your dog has a sensitive stomach, give them half a cupcake and see how they digest it.
Another wonderful thing about apples in this baked dog cupcake recipe is that they add natural sweetness without adding any sugar or sweetener.
These delicious treats are a good way to give them healthy food on your pup's birthday.
Benefits of Bananas for Dogs
Bananas are another ingredient in this doggie cupcakes recipe. They are really high in potassium, which fortifies their muscles and is fantastic for their heart health.
They also make banana pupcakes taste sweet without increasing the calorie amounts too much. Plus, they have plenty of fiber in them too.
Benefits of Oats for Dogs
Oatmeal is the other main component that makes up these pupcakes ingredients. It is one of the healthiest ingredients to use in dog cupcakes.
This is a healthy alternative for dogs that are allergic to wheat flour or gluten (common dog allergies). It's gluten-free and won't negatively impact your dog's glucose levels too much.
Pupcake Recipe Ingredients
The entire list of ingredients, step-by-step directions, and nutritional information are in the printable recipe card at the bottom of this article. First, I want to share some additional information about the simple ingredients I used in this recipe for pupcakes.
Here's a list of what you need. If you want to make organic pupcakes you must use organic ingredients.
Oatmeal – This is the best gluten-free option that maintains the shape without falling apart.
Baking Soda – This gives the pupcakes a light texture. Without it, they will be very dense.
Apple – Any type of apples will work in this recipe. Use whatever variety you have on hand.
Applesauce – Always use unsweetened applesauce so that it doesn't add any extra calories or sugar.
Banana – Since you will be mixing it into the batter, make sure the banana is very ripe.
Coconut Oil – A little bit of this oil gives the cupcake some healthy fats. You can use avocado or olive oil instead if you don't have coconut oil.
Egg -Any sized egg will work perfectly in this recipe.
If you want to make dog frosting, you'll need:
Greek Yogurt – Use unsweetened Greek yogurt. It has lots of protein and calcium.
Peanut Butter – Natural creamy peanut butter is the healthiest choice. If your pup is allergic to peanuts or you want pupcakes without peanut butter, use any type of nut or seed butter – like SunButter.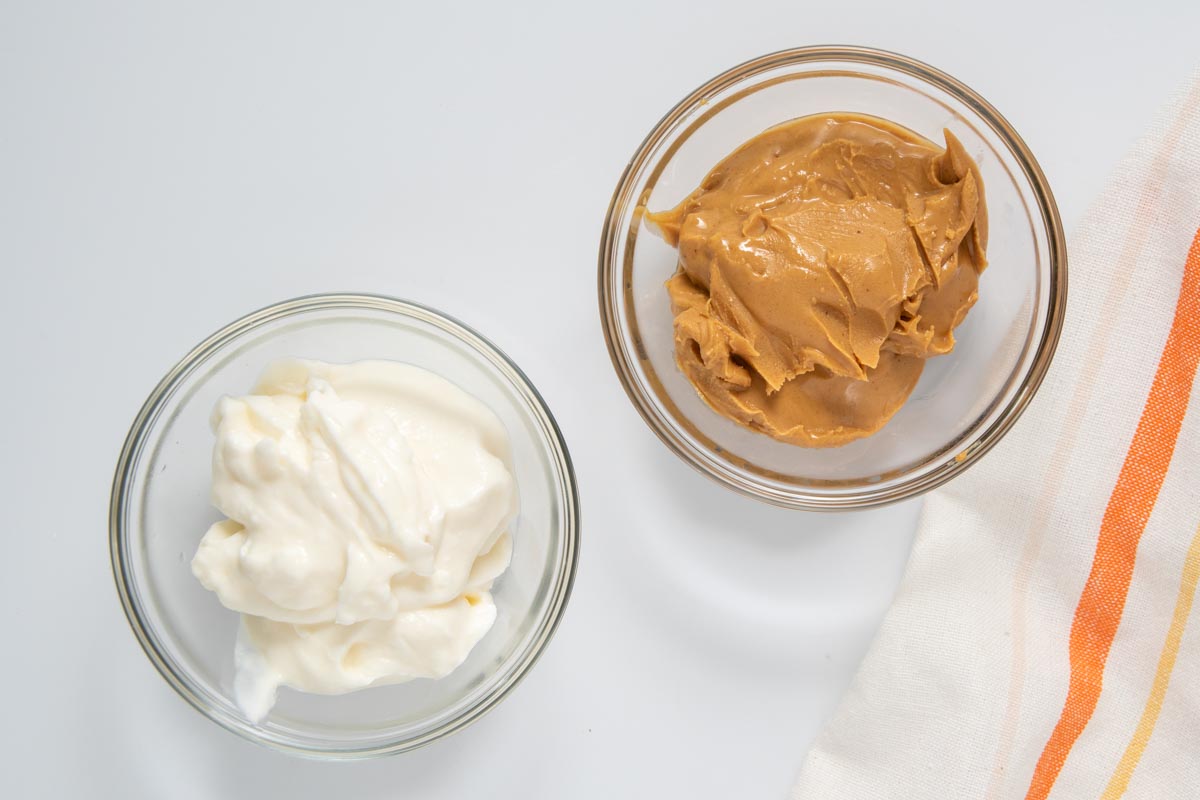 Ingredient Notes
When you make this easy dog treats recipe, here are a few notes to keep in mind.
Do not use peanut butter that contains xylitol. It is a sweetener that is toxic to dogs. It is best to use natural unsweetened peanut butter.
You can make these peanut butter pupcakes with regular flour like all-purpose flour. If you want to use whole wheat flour, you will need to reduce the amount to 1 1/2 cups of flour or less and possibly need to add more applesauce or water if the batter is too dry.
Pupcake Sprinkles – Want a topping for these cupcakes? You can sprinkle on some bacon bits, crushed apple chips, finely diced apples, or crushed dog biscuits.
Equipment Needed
You probably have most of the kitchen items you need to make pupcakes. But just in case, here's a list of them:
Blender or Food Processor to turn the oatmeal into oat flour. Or just use oat flour but it's more expensive than making it yourself.
Measuring Cups – for measuring
Mixing Bowl – to mix the batter in.
Mixing Spoon – for stirring. You don't need a hand or stand mixer.
Muffin Tins – to bake the pupcakes
Wire Cooling Rack – for cooling the pupcakes.
How to Make Pupcakes
These are the recipe steps and photos of the process of making the pupcakes. I hope they help you make this healthy pupcake recipe!
You can scroll down to the bottom of this article for a printable recipe card.
Dog Cupcakes
Preheat the oven to 350 degrees Fahrenheit. Grease 9 cups of a muffin pan or place paper liners (cupcake liners) in 9 of the cups.
Place the oats in a blender or food processor and blend until it has a flour consistency.
Combine the oat flour and baking soda in a large bowl.
Add the applesauce, mashed banana, coconut oil, egg, and chopped apple.
Stir until the batter is thoroughly combined.
Spoon the batter into the greased muffin tin cups.
Bake for 20 to 25 minutes.
Transfer the baked pupcakes to a wire rack to cool completely.
Dog Frosting
Place the peanut butter and Greek yogurt in a bowl.
Stir until thoroughly combined and smooth.
Spread the frosting on top or use a piping bag to pipe the frosting on the pupcakes.
Serving Size
How many homemade pupcakes should you give your dog at once? One is plenty for an average dog – but how much is really based on your specific dog or breed of pup.
Large dogs like Golden Retrievers can have a whole one but a Chihuahua should only get part of one. These dog cupcakes are big, so be mindful of how many homemade dog treats you give to your dog.
There is the option to make mini cupcakes using a mini muffin pan. Note you will have to reduce the baking time in half, about 10 minutes.
Dogs shouldn't overeat. They should not consume too many carbs or calories. It is important to keep dogs at a healthy weight. A special treat like these dog safe cupcakes should only happen every so often, maybe a couple times a year.
How to Store Dog Cupcakes
How pet parents store these dog cupcakes depends on how you made them – with or without icing.
If you put icing on top of your homemade dog cupcakes, store them in the refrigerator in an airtight container. The Greek yogurt needs to be refrigerated. It will stay fresh in the fridge for up to 5 days.
Baked pupcakes without icing should be stored in an air-tight container at room temperature. They will stay fresh this way for about a week. You can freeze them for up to 4 months.
Can humans eat these dog cupcakes?
Oh yes, they sure can! All the ingredients in these cupcakes for dogs are safe for human consumption. But people probably won't like them because they are not sweet. I suggest making some apple cupcakes for people.
Dog Birthday Treat Recipe
These make the cutest dog birthday treat ideas because they look so good! They are picture-perfect. Even though your pet won't care how they look, you care – and that's what matters.
It's the perfect treat to give your fur baby a happy birthday. It's made with lots of love.
These pupcakes can also be for a gotcha day, holiday, or other special occasions.
Invite all your dog parents and make some cupcakes for yourselves and then serve these dog friendly cupcakes to the furry friends that come to the party. It's such a fun idea!
📌 Pin this to save and share 📌
Great Dog Treat Recipes
Want to make more treats for your dog? Check out these easy dog treat recipes:
Want to get some store-bought treats instead of making doggy cupcakes? Check out my favorite dog treats on Amazon.
I hope your dog enjoys the pupcakes! Give belly rubs from me.
Apple Oatmeal Pupcakes
These apple oatmeal cupcakes for dogs with peanut butter frosting are a great treat for your furry friend.
Ingredients
Dog Cupcakes
2

cups

Uncooked Old Fashioned Oats or Brown Rice

½

teaspoon

Baking Soda

1

Egg

½

cup

Applesauce

1

Banana

mashed

2

tablespoons

Coconut Oil

melted

1

mecium

Apple

finely chopped
Frosting
1/2

cup

Creamy Peanut Butter

natural unsweetened

1/2

cup

Plain Greek Yogurt
Instructions
Dog Cupcakes
Preheat oven to 350°F. Grease 9 cups of a muffin pan.

Place the oats or brown rice in a blender or food processor and blend until it has a flour consistency.

Combine the oat flour and baking soda in a bowl.

Add the egg, applesauce, mashed banana, coconut oil, and chopped apple. Stir to combine.

Spoon the batter into the greased muffin tin cups.

Bake for 20 to 25 minutes.

Transfer the baked pupcakes to a wire rack to cool completely.
Frosting
Place the peanut butter and Greek yogurt in a bowl.

Stir until thoroughly combined and smooth.

Spread or pipe the frosting on top of the pupcakes.
Notes
Do not use peanut butter that contains xylitol, a sweetener toxic to dogs.
Nutrition
Calories:
211
kcal
|
Carbohydrates:
20
g
|
Protein:
8
g
|
Fat:
12
g
|
Saturated Fat:
4
g
|
Polyunsaturated Fat:
2
g
|
Monounsaturated Fat:
4
g
|
Trans Fat:
1
g
|
Cholesterol:
19
mg
|
Sodium:
135
mg
|
Potassium:
226
mg
|
Fiber:
3
g
|
Sugar:
5
g
|
Vitamin A:
39
IU
|
Vitamin C:
1
mg
|
Calcium:
33
mg
|
Iron:
1
mg