Quinoa has tons of protein, so is it good for dogs? Keep reading and finally discover the truth, can dogs eat quinoa? Is it good for them?
Quinoa is known as a power food. It's a grain but has tons of protein and nutrients. As humans, we love eating it in tons of different recipes. Vegetarians enjoy it as a meat replacement. But what about dogs? Keep reading and learn all about dogs and quinoa.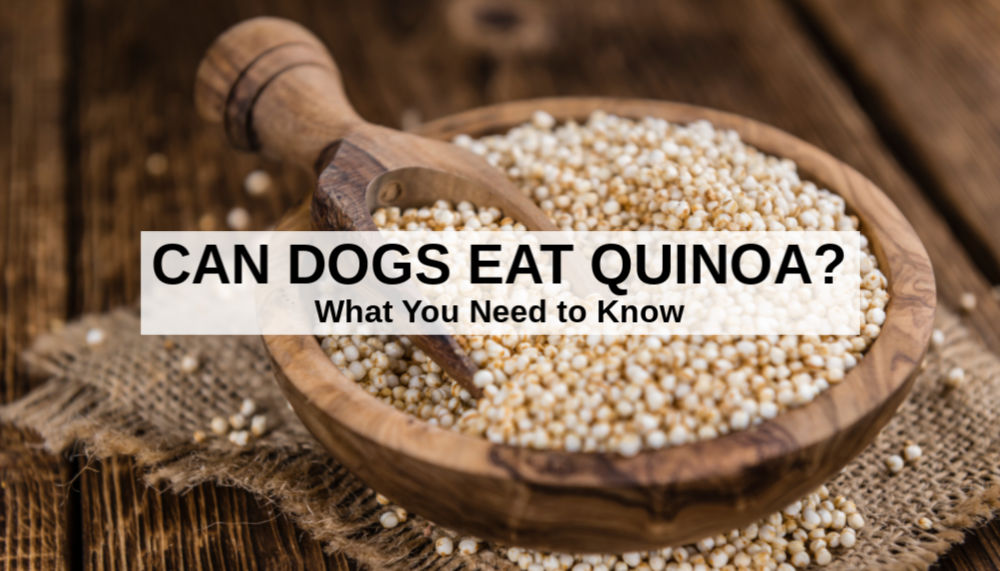 For ultimate pet safety, I recommend consulting with your vet about all the questions you have about your dog eating quinoa.
Can Dogs Eat Quinoa?
There are all sorts of different types of quinoa and various ways to cook it. Is one way safer than another? Let's look closely and answer the burning question, "can dogs have quinoa?"
The answer is that yes, the edible seed is even an ingredient in some high-quality dry dog foods. It's generally safe for dogs to eat.
In fact, it has so many nutrients in it that it's a healthier alternative to corn, wheat, and soy – all of which are starches that are found in commercial pet food.
There is some concern about a chemical that is found in this seed and whether dogs can have adverse reactions to it. It's called saponin and it's a chemical it produces to protect itself from insects. There are worries that this could also irritate the intestines of both humans and canines. The good news is that the amount of saponin found on quinoa is often too small to create any health problems.
If your pet has never had this grain before, introduce it to them slowly. Give them a small amount first and watch how they react to it.
Most dogs can digest it without any problems. Watch out for common signs of stomach irritation:
Vomiting
Diarrhea
Constipation
Any time you introduce a new food like quinoa to your furry friend, you should also watch for allergic reactions. This might include coughing, sneezing, or scratching.
Health Benefits Of Quinoa
Quinoa is generally a healthy option for dogs. It is known as complex carbohydrates. This means it breaks down slowly in digestive systems, unlike sugar. It is a healthy alternative to grains.
It is also known as a complete protein source. This healthy food has lots of vitamin E and vitamin B12 in it for our canine companions. The fatty acids in quinoa are good for your dog's brain. The nutritional value is pretty amazing, so it makes a great addition to your dog's diet.
Can Dogs Eat Cooked Quinoa?
The only concern with the cooked variety is the spices you put on it. Some human quinoa recipes call for salt, garlic, and onion.
Refer to our earlier post about why dogs shouldn't eat garlic or onions. They can have a very small amount of salt, but they are very sensitive to it and so you shouldn't give them foods with added salt, including soy sauce.
So, can dogs safely eat cooked quinoa? Yes, they can eat it cooked as long as you serve it to them plain without any added spices. It is a good idea for dogs with a sensitive stomach – much like brown rice.
Can Dogs Eat Dried Quinoa?
What about the dried version? Can dogs eat uncooked quinoa?
Yes, dogs can eat dried quinoa. This gluten-free seed is actually a common ingredient in some commercial dried dog food! However, will they want to? If your dog doesn't want dried quinoa, don't be surprised. It isn't very appetizing on its own.
Can Dogs Eat Quinoa Flakes?
Yes, quinoa flakes are safe for your dog to eat. Remember, don't add any flavoring to them. You can mix the flakes with other ingredients in pet foods and make your own dog treats. These beef and banana bars have quinoa flakes in them and your dog will love them.
When you give it to your dog for the first time, watch for signs of an upset stomach. This might not happen since most active dogs can handle this ancient grain just fine.
Can Dogs Eat Quinoa Flour?
Dog owners, quinoa flour is considered safe for dogs to eat. This is actually a healthier alternative to wheat flour since it has so many essential nutrients.
It's a complete source of protein. That means it has all 9 essential amino acids. It's also a fantastic source of fiber, protein, B vitamins, and iron. Small amounts of quinoa flour are good for your dog. If your pet has food allergies to wheat, this is a gluten-free option.
Can Dogs Eat Quinoa Rice?
Yes, pet parents, dogs can eat rice made out of it. Remember to give them unflavored quinoa rice. Don't add garlic, onion, salt, or sugar to it.
If you want to flavor the cooked quinoa rice, mix it in with some meat. It can be a healthy treat that is mild for your dog's stomach.
Can Dogs Eat Quinoa Pasta?
Yes, they can safely eat cooked and unflavored quinoa pasta. The best way to introduce the pasta to your dog is to only give them small quantities at first and see how their body reacts to it. Watch for any signs of digestive issues.
If you notice your dog having a bad reaction to the quinoa, talk to your veterinarian.
How Much Quinoa Can Dogs Eat?
This answer depends on your dog's activity levels, size, and general health. Ask your veterinarian how much quinoa they suggest allowing your dog to eat.
Most pups can safely consume a small serving without any bad health effects.
Dogs and Quinoa: Final Thoughts
Quinoa is a healthier alternative to other starches that dogs normally eat like rice and flour. If your pet has gluten issues, this seed might be a fantastic way to replace wheat flour.
As always, watch out for indigestion or food sensitives when you offer something new to your pet. Always ask your veterinarian any questions you have.
This is generally a safe food for dogs.
More Dog Food Resources
Here are even more resources about different human foods your dog can and cannot eat.
Find lots more articles on food dogs can eat here on Spoiled Hounds!
📌 Pin this to save and share 📌