Before you share it with your pup, read this guide. Can dogs eat corned beef? You might be surprised by the answer!
It's a traditional beef brisket served around St. Patrick's Day. As much as you enjoy it (and even look forward to it) it might not be a very good thing for dogs to eat. This guide will answer all your questions about whether your furry friend can eat fresh corned beef.
For ultimate pet safety, I recommend consulting with your vet about all the questions you have about your dog eating corned beef.
Quick Corned Beef Facts
Before we get into how this human food will affect your dog, let's take a closer look at what corned beef is.
Popular in March and around St. Patricks, Day, corned beef is a salt-cured beef roast, usually made from beef brisket. Irish immigrants brought it over to America and today there are different ways to eat it. Some like to eat a corned beef sandwich, others like corned beef deli meat, and others prefer corned beef hash.
It's seasoned with a bunch of spices, including:
Mustard Seeds
Peppercorns
Anise Seeds
Cloves
Cardamom Pods
Bay Leaves
Crushed Red Pepper Flakes
Ground Ginger
The brining process gives it an unmistakably salty flavor that people love! When you cook an Irish meal with potatoes, it has a robust flavor.
Also called corn beef, it's a good source of protein and other vitamins, including vitamin B.
Can Dogs Eat Corned Beef
Now that you know what it is, can dogs eat it? The quick answer is that the brining solution has too much salt to be good for your dog's health.
Since it has a lot of salt, corned beef should not be a part of your dog's regular diet.
A small piece of it might not hurt healthy dogs, but it's still a good idea to keep it away from your pet.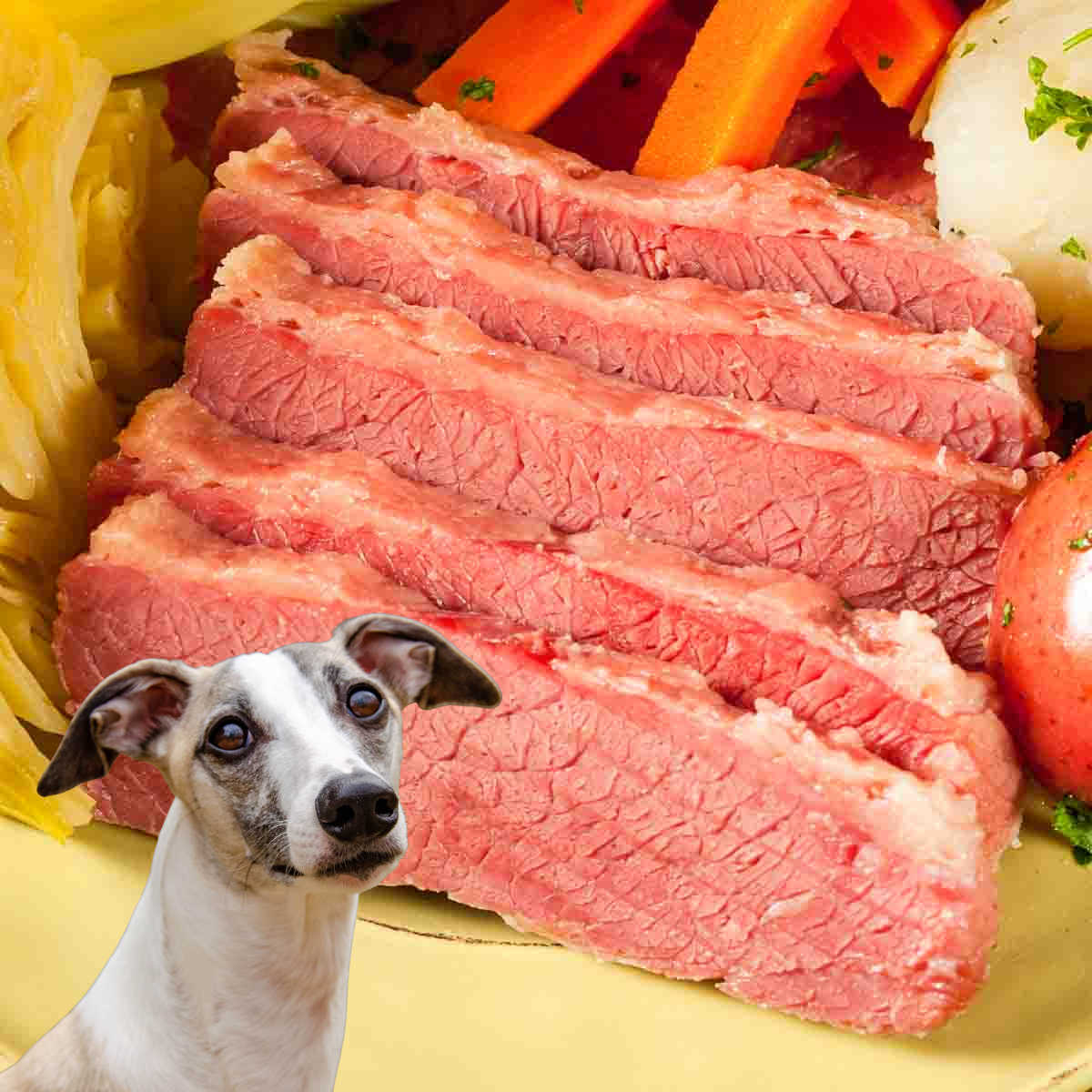 Corned Beef Benefits For Dogs
Since it's basically brined beef, it contains a couple of vitamins and minerals, like protein, iron, and vitamin B12, that could be good for your dog's red blood cells… except it has too much sodium to make it worth it.
Small amounts of it could be a tasty treat, but be careful with how much of it you give your dog.
Even though beef is a healthy treat for dogs, it's not good for them when it is soaked in salt and cooked in a bunch of other spices.
Why Is Corned Beef Bad For Dogs
Lots of dog owners wonder, "can corned beef kill dogs?" I get why they search for it – corned beef is really high in salt. But the answer is that it depends on how much corned beef (and salt) your dog eats that day. The less sodium your dog eats, the better.
Let's look at the health risks of corned beef for dogs.
Corned Beef and Potatoes
White potatoes are part of the nightshade family, which also includes tomatoes. Raw potatoes, like tomatoes, contain solanine, which is poisonous to some dogs.
Cooked potatoes are safe for dogs, but they are a starch, which could lead to weight gain in dogs. It's best not to give your dog potatoes regularly.
High Salt Content
Salty foods are dangerous for dogs. If dogs eat too much salt, they are at risk of developing salt poisoning.
According to the Pet Poison Helpline, "Salt poisoning in dogs results in signs of vomiting, diarrhea, decreased appetite, lethargy, incoordination, excessive thirst or urination. In severe cases, tremors, seizures, coma, and even death are possible."
Be very careful with how much salty food your dog eats. If you notice the above symptoms, call your veterinarian.
Health Issues
Large amounts of corned beef has higher fat content than other meat (like chicken or pork). When your dog eats too much fat, they could gain weight which leads to other health problems.
Obese dogs are at risk for high blood pressure, heart disease, kidney problems, and kidney stones.
Your dog could also get hemolytic anemia from onions in corned beef hash.
Sodium Nitrite
This is a preservative in store-bought canned corned beef. Large amounts of this preservative could possibly lead to a blood disorder called methemoglobin. But your dog would have to eat a LOT of corned beef hash and would probably get sick from the salt first.
Upset Stomach
Fatty foods can wreak havoc on your dog's digestive system.
When it comes to food items to share with your pet, processed meat or corned beef is not a good idea.
Contains Harmful Ingredients
Corned beef is made with lots of garlic, onions, peppers, and salt – and these ingredients could cause health complications in dogs.
How To Give Your Dog Corned Beef
Honestly, it's better to just not give your dog any corned beef. But if you want to share a bit with your pet, it's best to control how much you share. Only give them small quantities. Here are some more tips that will keep your dog safe.
Check For Dog-Safe Ingredients
Some corned beef comes with the seasonings in a separate packet. Maybe make your dog their own serving without lots of seasonings on it. Then make your family a larger portion with the seasonings and spices.
Add a Small Amount To Dog Food
Mix small pieces of shredded brisket into your dog's regular dog food. Mixing it in with other food will help you limit how much you let them eat.
Provide Lots Of Water
Corned beef has high sodium content, so provide your dog with plenty of water. Even a few bites of it will probably make them really thirsty.
Final Thoughts
The short answer is that a small bite of corned beef probably won't hurt your pet. But it's definitely an unhealthy option for your dog to eat regularly. The high amount of sodium makes this a "sometimes" treat that is best to keep away from your dog.
More Dog Food Resources
Here are some articles about other meat and protein and whether they are safe or toxic for your dog to eat.
Find even more articles on human food dogs can and can't eat here on Spoiled Hounds!
📌 Pin this to save and share 📌