Whippets are known for being elegant and fast. Did you know they have a naughty side too? Oh yes, they can be quite mischevious and destroy things. Toys, toilet paper, pillows, furniture, gardens, and even dog houses are not safe around them. The looks they give of either innocence or pride are hilarious too.
Here are 37 naughty whippet dogs destroying things:
Sky chewed up her mum's bite-guard not once, but twice:
Archie and Daisy looking innocent while sitting in the dog bed stuffing:
Croft destroys dog beds. This is the third time:
Loki has a thing for boots:
Atlas doing his version of reading comics:
Berkley had enough of that big Pikachu toy:
These two innocent looking whippets drug a bag of garden soil into the house and destroyed it on the rug.
Dobby took a whole pack of toilet paper outside and destroyed it on the lawn.
Esther and Eddie don't know how that cushion exploded:
Vixen denying she plucked the duvet:
Monty helping himself to a few tissues:
Rupert wearing the evidence of his pillow destruction on his nose:
Pablo and Bruno "helping" with the recycling:
Ruby has no shame in stealing the pom pom from the shower and destroying it:
Stanley plucking grass from the garden:
Louie hiding in the kitchen after his destruction antics. Look at him peeking out by the cabinet:
Lexie all pretty and proud after a bout of destruction:
Darcie brings toilet paper to her bed to destroy:
Jeff seems to have an aversion to red cushions:
Caesar after destroying 3 large plants, magazines, library book, and kid's homework not even graded yet:
Luke has no clue how stuffing got out of the toy:
Ruby spills the pea soup then offers up paper to clean it up:
Tokyo was only trying to make Santa a little skinnier:
Ted goes around the house seeking items to destroy and brings them back to his bed:
Ruby holding up knickers for the world to see. It's a classic destruction of privacy.
Twinkles had to destroy the whole pack of toilet paper on top of the bed:
Roxy must not have liked that dog pillow:
Lira after scooting her crate across the room, destroying her blanket and cord for the wet vac:
Cujo ripping apart a package:
Bunny destroyed a pair of almost finished knitted socks, along with knitting needles. She had to be cut out of the mess. She was lying this way because the yarn was holding her in this position.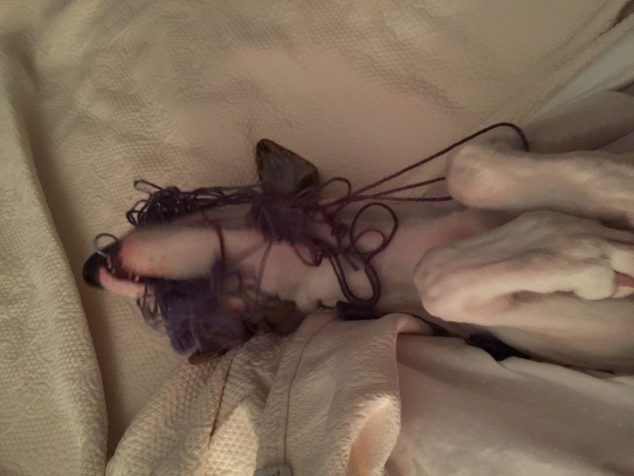 Arthur wanted his dog house renovated:
Belle spread out the stuffing from a toy:
Dillinja redecorating shortly after moving into his new home:
Josie thought her dog bed was a little too fluffy:
Foam padding makes for lots of destruction fun:
Wesley and his destruction of a cushion and book cover:
Pepper helped herself to the garbage and a few other things. (Pepper is actually a greyhound, but I'm giving her honorary whippet status).
Big thanks to members of the Whippet Appreciation Society for allowing me to share these photos of 37 naughty whippet dogs destroying things.
Here's a video montage of all the photos:
Do you have a whippet that's a destroyer too? If so, what has yours destroyed?