We adopted Milo after losing all three of our whippets in one year. Those three were loving, playful, curious, mischievous, and furry buckets of fun. Our previous whippet puppies were like little tornados with boundless energy and playfulness. It is what we expected when we decided to adopt a new whippet puppy. However, in Milo's first month with us, it was obvious that was not the case with him.
I got Milo from the breeder early in the afternoon. He was 5 months old. It wasn't until late that evening when Milo pooped. It was unlike any puppy. Puppies are super poopers and they poop often. The same with peeing. He didn't for about 8 hours. What I discovered later is how this is common with fearful dogs. They feel vulnerable when relieving themselves and will hold it.
Then Milo started having diarrhea. I was feeding him the food the breeder used and recommended. Nothing had changed with his food. I took him to the vet to get checked. The diagnosis was stress-induced colitis. He was a scared puppy and completely stressed out from the change in his life. He lived in fear because he had not been socialized at all. He had no capacity to deal with change or new things. It's one of the reasons why it is important to socialize a puppy.
He didn't know how to drink water from a bowl. I had to teach him by holding the bowl up to his mouth then letting him lick water from my fingers. It took a couple of days of doing this before he would go to the bowl to get water.
Milo would cower in corners, both outside or inside. Inside the house, he would sit on the end of the couch closest to the corner of the room. He didn't venture around the house at all. What 5-month-old puppy does that? A fearful one. He had no idea of what to do with all the space he was living in. The whole house was his to explore and he stayed in one place.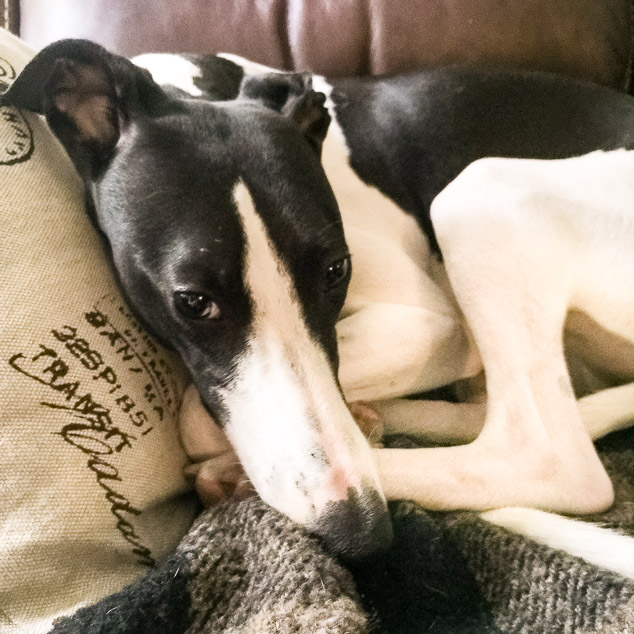 He didn't know how to play. I'd give him a toy and he would not do anything with it. Whippet puppies or any puppy for that matter would investigate, play, and have loads of fun with a toy. This was something I never fathomed could happen with a whippet.
I thought all this fear of his would go away. He'd realize what a great life he had and how loved he was. Then he'd relax and become a "regular" whippet. I was wrong, totally and completely wrong. Milo's first month with us was only the start of a long journey of his recovery. It's doubtful he will ever fully recover from being a fearful dog. I'm hopeful though. I have plenty of determination, love, and patience to work through it.
His story continues: Milo's Next Six Months With Us
📌 Pin this to save and share 📌