Meet Digger. He's an awesome whippet. He is incredibly fun-loving, does so many things, and excels at them too. I admit I was inspired to do more things with my whippets after seeing all Digger does. Wow! Really. Kudos to his human mom, Charlotte. They have lots of fun adventures and more because of her. Be sure to scroll down to look at all the photos of Digger. You'll see he truly is awesome.
Here are some fun facts about Digger as told by his human mom, Charlotte.
Why did you get your dog?
I wanted a partner in crime. In the last 6 years, we have accomplished titles in lure coursing, racing, obedience, rally, CGC, and we are still going. I love this dog.
Your Dog's Breed or Mixed
Whippet
How did you decide on your dog's name?
It was given to him by his breeder. He dug a lot as a puppy.
What is your dog's favorite toy?
Anything that squeaks.
What is your dog's favorite treat?
All of them.
How do you spoil your dog?
He has a pet door so the house is his, he comes in and out as he pleases, sleeps where he wants and is fed his breakfast and dinner on command (his command).
What's a funny story about your dog or how does your dog make you laugh?
He is not afraid of anything, loud noises like fireworks, etc. But if something as lite as a feather lands on him he takes off (mom a dinosaur just tried to eat me). It's really funny to see him do this.
How do you have fun and play with your dog?
We go to the park at 4:00 am when no one is there (and the squirrels are still asleep) to free run (I have a light on him so I can see where he is). That is his second love after racing.
Is there anything special or unique about your dog? If so, what is it?
Really everything you can ask for in a friend and partner, he is a veteran now and I'm a senior. We are enjoying our later years together and enjoying each other.
What else would you like to share about your dog?
He is willing to go with and do anything with me I want to do.
He's a champion!
He's an obedience winner:
Here he is strutting his handsome self in the show ring: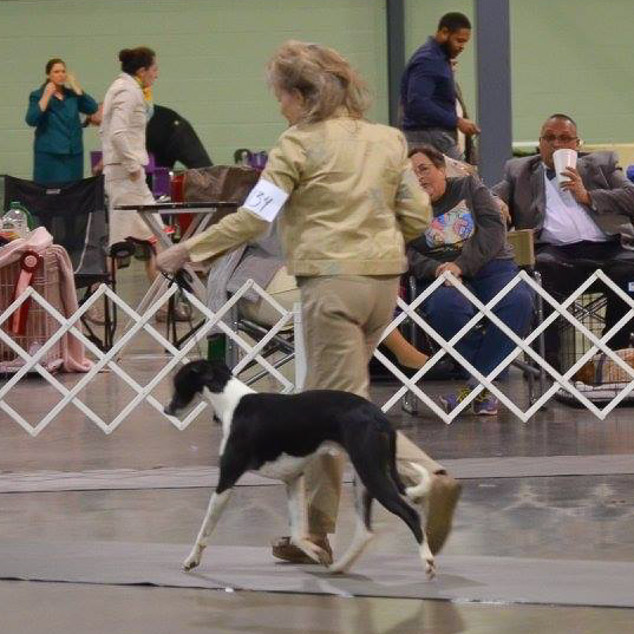 He's sitting so good!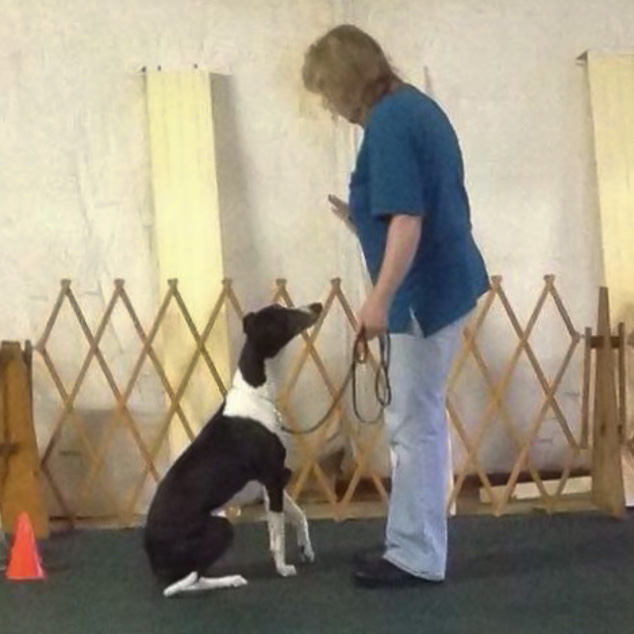 Go Digger, Go!
Handsome boy with his stuffed bone toy. Of course, a black and white dog needs a black and white toy!
Here he is being a rally winner:
Whew! After all that, I'd need a nap too.
Thank you Charlotte for sharing the fun of your awesome whippet, Digger!
PS. I had to smile because he's another gorgeous black and white whippet like my Milo.
Would you like to have your dog featured? It's easy to do. Just fill out the Featured Hounds Interview Form.
📌 Pin this to save and share 📌