These coconut dog treats are one of the best dog treat recipes, thanks to the crispy coconut on top. Your furry friend will love them!
No more waiting for homemade dog treats to bake. These no-bake cookies are ready in minutes! And since they are made with coconut flour, these homemade treats are naturally gluten-free.
This easy dog treat recipe involves no baking at all! In fact, if you have a silicone mold, you can pop them out as soon as they are mixed and ready.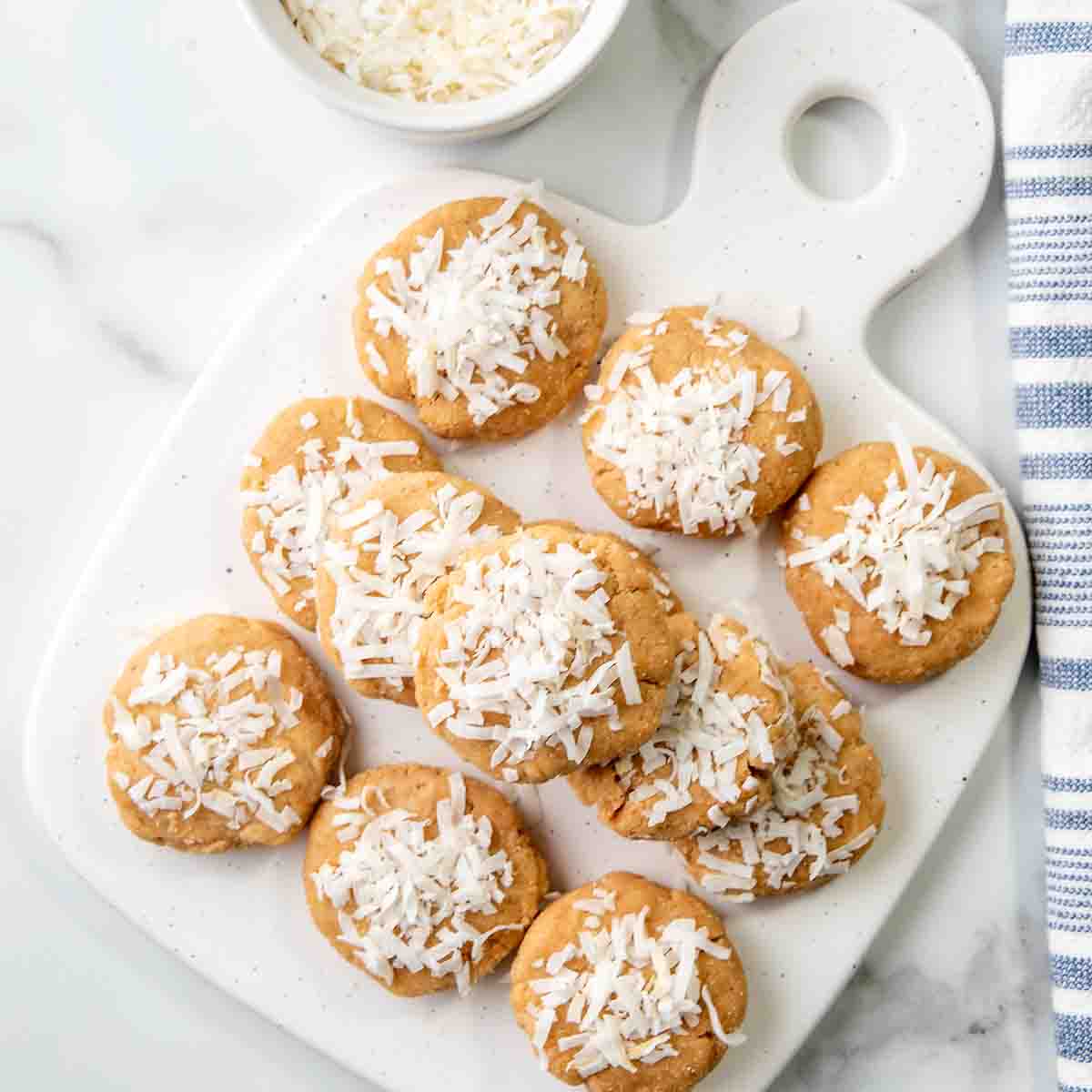 FYI – This post contains affiliate links. As an Amazon Associate, I earn from qualifying purchases.
Why This is the Best Coconut Dog Treats Recipe
They are the most coconutty dog treats ever! A quadruple coconut treat with a dose of coconut oil, coconut milk, coconut flour, and coconut flakes.
These coconut dog treats are soft and great for senior dogs, dogs with no teeth, or to use as training treats.
Plus, they are vegan, so they are a great way to give your dog plant-based nutrition.
When you make your own dog treats, you know exactly what is in them. Store-bought treats can have questionable ingredients. This way, you can control how sweet they are or make substitutions if your dog has food sensitivities or allergies. And these tasty treats are just made with healthy ingredients.
I love that this simple recipe for easy homemade dog treats uses my dog's favorite foods. Coconut and peanut butter is a healthy combination that is also super delicious for your dogs.
The best part is that this doesn't require any baking! Just roll them up and they are ready to share with your fur baby.
Benefits of Coconut for Dogs
There are lots of health benefits of coconut for your fur babies. They are high in dietary fiber – which is good for their gut health. The fatty acids in coconut will give your dog a shiny coat and even help them if they have dry skin.
Soft Dog Treats for Pills
If you have a dog that refuses to take pills, hide them in these nutritious treats. It is a great treat for hiding medication. They are yummy homemade pill pockets for dogs!
Recipe Ingredients
Here is a bit more information about the simple ingredients I used in these homemade treats. All of them can be found at regular grocery stores.
Oat Flour – store-bought or easily made with old-fashioned rolled oats.
Coconut Flour – has fiber that's great for a dog's digestive system.
Coconut Oil – a healthy fat that adds some moisture and helps hold the treat together.
Coconut Milk – a healthy way to add moisture because the coconut flour absorbs it.
Unsweetened Creamy Peanut Butter – natural peanut butter is healthier in this easy recipe.
Coconut Flakes – Use unsweetened because dogs don't need the added sugar.
All of the ingredients can be found at regular grocery stores.
If you're giving your pet any of these ingredients for the first time, watch for any signs of adverse reactions.
Ingredient Notes and Substitutions
When you make this easy coconut dog treats recipe, here are a few notes to keep in mind:
Do not use peanut butter that contains xylitol because it is toxic to dogs.
To make these dog treats without peanut butter, substitute the peanut butter with SunButter (sunflower seed butter). Make sure it does not contain xylitol or any artificial sweeteners.
While you can substitute the oat flour with all-purpose flour or whole wheat flour, I do not recommend them for these treats. Do not use rice flour because raw rice flour can cause choking and digestive issues in dogs.
If you want to make organic soft dog treats, use organic ingredients.
Equipment Needed
Another great thing about this recipe is you only need a few kitchen items to make these no-bake peanut butter pumpkin dog treats.
Measuring Cups
Mixing Bowl
Tray or Baking Sheet
I roll the dough into balls and then press them with a fork to make them look like coconut cookies. To create shaped treats, use a silicone mold or a small ice cube tray. The dough ball is too soft to roll out with a rolling pin and cut out with cookie cutters.
How to Make Coconut Dog Treats
Here are the recipe steps for these easy no bake dog treats:
Melt the coconut oil and combine it well with the peanut butter and coconut milk in a large bowl.
Add the coconut flour and oat flour and combine the dry ingredients with the wet ingredients using a hand mixer or a spoon.
Form balls with the mixture, about 1-inch thick for smaller treats and up to 2-inches thick for larger treats.
Roll the balls in shredded coconut.
Use a fork to press the balls into a cookie shape if desired.
Recipe Notes
You can toast the coconut flakes. Simply spread them out in a thin layer on a baking sheet lined with parchment paper or a silicone mat. Bake coconut at 325°F for about 5 minutes, until golden brown. Watch them closely because coconut flakes can burn quickly.
Serving Size
Even though this easy dog treat recipe is good for your dog to eat, it is still a treat. Pay close attention to the size of your pet when deciding how much to give them. Tiny dogs should only eat one of these treats a day. Larger breeds can eat more. It all has to do with the total calories they are eating that day.
You can also adjust the size of the treat by making larger or smaller size balls.
Any time you introduce new recipes to your pet, watch for signs of an upset stomach, just in case they are sensitive to one of the ingredients. Start with small pieces.
How to Store Soft Dog Treats
Store the treats in an airtight container or heavy zip-top plastic bag in the refrigerator. Do not store them at room temperature.
You can freeze the treats for longer storage. Here's how to freeze them:
Place them on a tray so they are not touching.
Put the tray in the freezer until the treats are frozen solid.
Transfer the frozen treats to a freezer-safe container or plastic freezer bag.
Store them in the freezer.
How Long Do Homemade Coconut Dog Treats Last?
The treats will last up to 5 days in the fridge.
The treats will last up to 3 months in the freezer.
Can Humans Eat These Coconut Treats for Dogs?
Yep, they sure can! All the ingredients are safe for human consumption. However, I doubt folks would enjoy them because they're not sweet.
📌 Pin this to save and share 📌
More Homemade Dog Treat Recipes
Want to make more tasty treats for your dog? Take a look at these:
Not in the mood for making homemade dog treats? Check out my favorite dog treats on my Amazon dog treats list.
Coconut Dog Treats
Homemade coconut dog treats are an easy no bake treat to make for your furry friend!
Ingredients
⅓

cup

Melted Coconut Oil

3

tablespoons

Coconut Milk

2

tablespoons

Peanut Butter

1½

cups

Oat Flour

3/4

cup

Coconut Flour

⅓

cup

Unsweetened Coconut Flakes
Instructions
Place melted coconut oil, coconut milk, and peanut butter in a large bowl. Stir until well combined and smooth.

Add the oat flour and coconut flour to the wet ingredient mixture and blend well using a hand mixer, a spoon, or your hands.

Roll the mixture into balls about 1 to 2 inches thick.

Roll the balls in shredded coconut.

You can leave them as balls or use a fork to flatten them like a cookie.

Store in the refrigerator.
Notes
You can make oat flour by blending old-fashioned rolled oats in a food processor or blender until it reaches flour consistency.
The number of treats can vary depending on the size you make them.
Nutrition
Calories:
182
kcal
|
Carbohydrates:
15
g
|
Protein:
4
g
|
Fat:
12
g
|
Saturated Fat:
9
g
|
Polyunsaturated Fat:
1
g
|
Monounsaturated Fat:
2
g
|
Sodium:
31
mg
|
Potassium:
92
mg
|
Fiber:
4
g
|
Sugar:
1
g
|
Vitamin C:
0.1
mg
|
Calcium:
11
mg
|
Iron:
1
mg