These high-fiber veggies are packed with nutrients, but can dogs eat sugar snap peas? Keep reading this guide to learn more.
If you've ever been tempted to give fresh peas to your canine companion, keep reading! We will tell you the best way to let them eat these sweet little green veggies.
For ultimate pet safety, I recommend consulting with your vet prior to feeding your dog sugar snap peas.
Can Dogs Eat Snap Peas
You want the best for your dog. The good news is that you can give your dog peas without worrying about them. There are a few things you should be aware of. Don't give your dog large amounts of peas without talking to your dog's veterinarian first.
A small amount of boiled or steamed peas could be a good thing to for your dog to eat. In fact, green peas are a common ingredient in packaged dog food.
Before you know how your dog will react to peas, only give them a small amount at a time.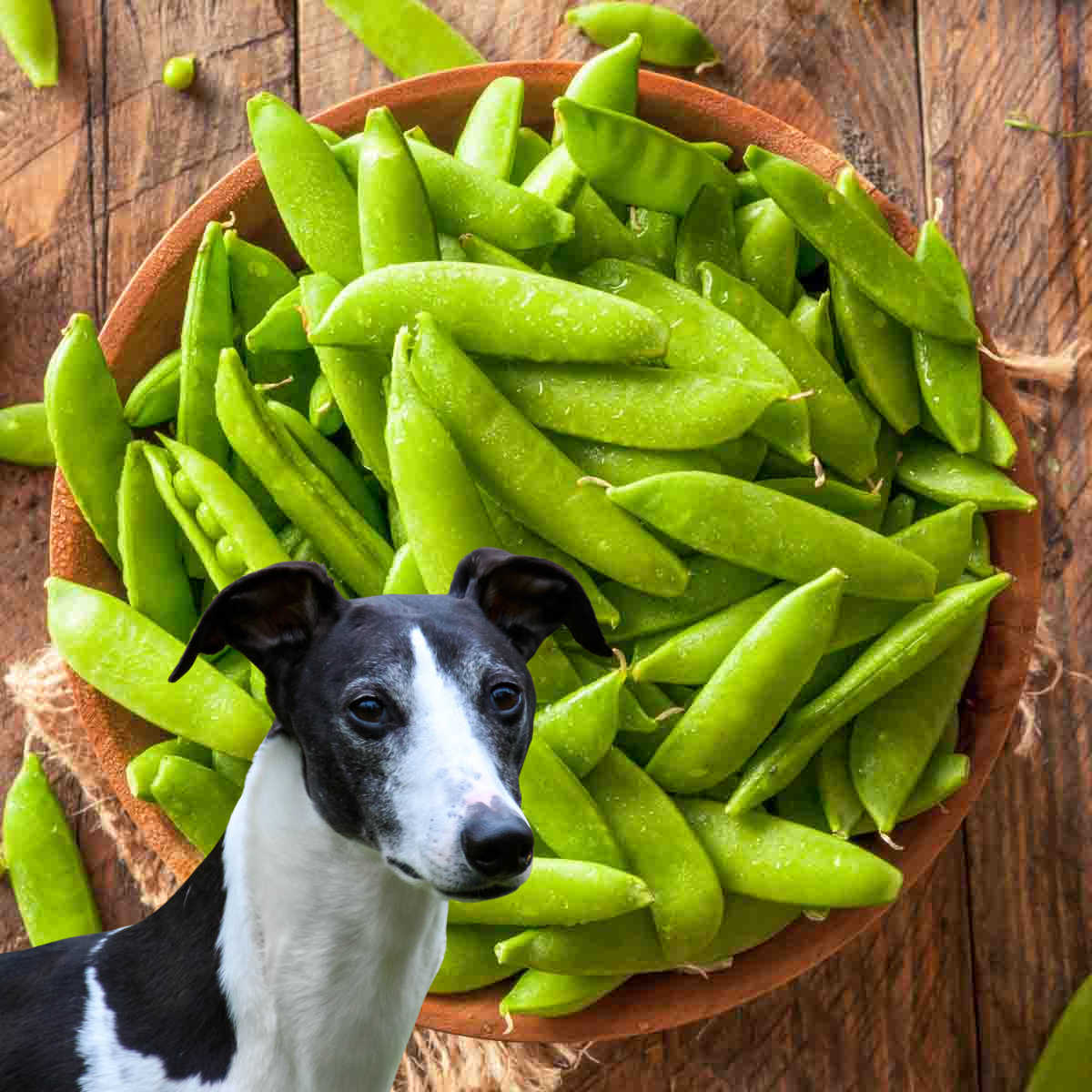 Are Sugar Snap Peas Good For Dogs
Yes, there are lots of health benefits of sugar snap peas for dogs – but there are also things you need to watch out for.
They are high in natural sugars, which makes them a great alternative to sweets or sugar. They are also a good source of fiber. Since they are so high in dietary fiber, you should be careful with how much your pet eats at once so they don't have an upset stomach. All the fiber is in the snap pea pod.
It's best to give your dog smaller pieces of steamed or boiled sweet peas. Controlling how much they eat will prevent digestive issues.
Can Puppies Eat Sugar Snap Peas
As a dog owner, be careful with what you give your puppy to eat. If they eat unsafe food, it could give your sweet pup some health issues.
Puppies should not eat peas. They are so high in fiber that your puppy could have an adverse reaction to them.
Snow Peas Vs Sugar Snap Peas
There are a lot of different types of peas out there and all of them are safe for your pet. Snow peas are slightly tender but still crisp. Sugar snap peas are just as tender and crisp, but have a slightly sweeter flavor.
All of these types of peas are safe for dogs to eat in small amounts:
Green Peas
English Peas
Garden Peas
Health Benefits of Sugar Snap Peas
There are a lot of health benefits of sugar snap peas. The vitamin C in peas supports a healthy immune system.
Vitamins A is good for your dog's vision and supports healthy skin.
Peas are also really good for your dog's heart health. It's a good source of vitamin k. If you want to give your dog a healthy snack, peas can be a good idea. Sugar snap peas can also be a great addition to homemade dog food.
Snap Peas For Dogs
Always be careful when you introduce your dog to new food. Give them a little bit at a time to see how they digest it.
Snap peas can be a healthy occasional treat.
Do not give your dog canned peas. They have too much salt and are bad for your furry friends.
Can Dogs Eat Raw Sugar Snap Peas
It's best not to give your dog raw sugar snap peas. They are very high in fiber which could aggravate your dog's sensitive stomach.
You should also keep sugar snap peas away from dogs that have kidney problems. This is because peas contain a naturally occurring chemical compound called purines. They produce uric acid that is filtered through the kidneys, and too much of it can lead to kidney stones and other kidney conditions.
It's better to give healthy dogs cooked peas instead of raw peas. Just make sure they are plain and do not have any seasoning or spices toxic to dogs.
Can Dogs Eat Whole Sugar Snap Peas
Even though whole sugar snap peas as non-toxic, they have too much fiber to be a good idea. Even more, the pods are a choking hazard for smaller dogs.
Can A Diabetic Dog Eat Sugar Snap Peas
Yes, a diabetic dog can eat small amounts of sugar snap peas. Be careful and monitor everything else they are eating that day.
Final Thoughts
There is a reason that sugar snap peas are an ingredient in commercial dog food. It's a nutritious vegetable. Don't give it to dogs that have kidney issues. All other dogs can safely eat small amounts of plainly cooked snap peas.
More Dog Food Resources
What other human foods are safe for dogs? Here are some more resources about different vegetables dogs can and can't eat:
Find lots of information about human food dogs can eat (and ones they can't) here on Spoiled Hounds!
📌 Pin this to save and share 📌