Have you ever wondered, "can dogs eat lychee?" Here is your answer! Including how safe this red tropical fruit is for dogs; the whole fruit, skin, and seeds.
There are so many questions surrounding this exotic fruit ever since it became known in health circles as a superfruit. Let's look closer at how healthy or even safe it is for your pets to eat.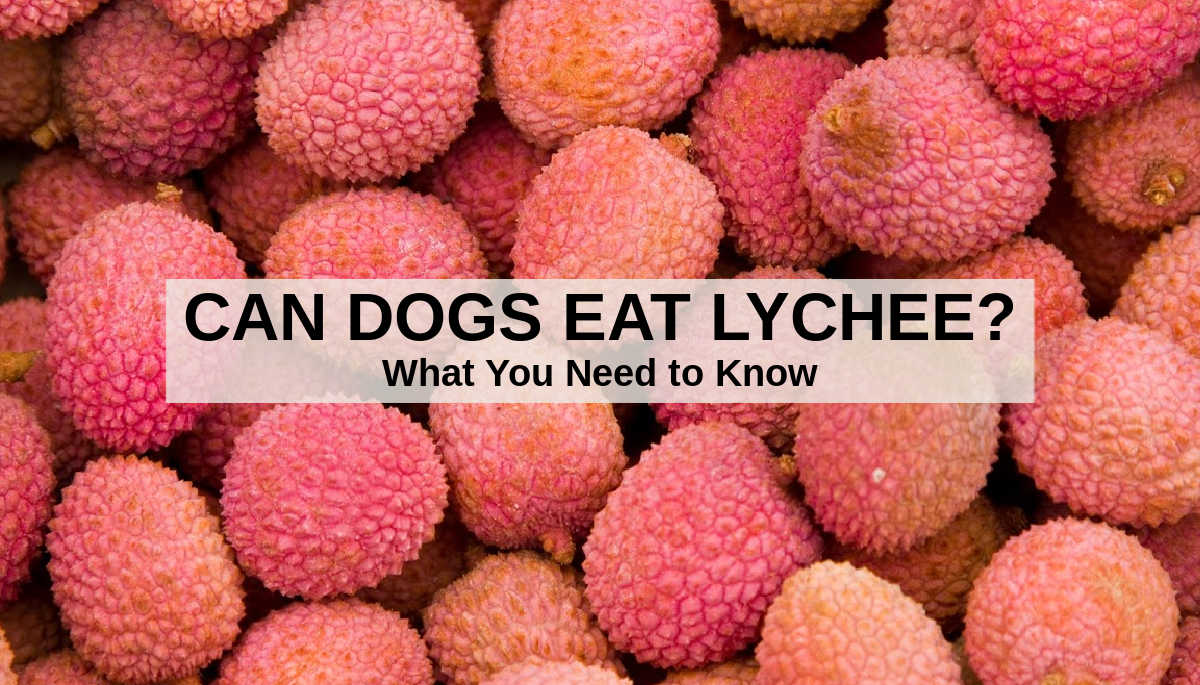 For ultimate pet safety, I recommend consulting with your vet about all the questions you have about your dog eating lychee.
What Is Lychee Fruit
This fruit is primarily grown in Asia. Lots of people love this small fruit because there is so much flesh compared to the amount of peel. It's also called a lychee nut or alligator strawberry because it has red, bumpy skin.
It has 3 layers – the red husk, white flesh, and the brown seeds. It's really easy to remove the leathery husk.
Lychee tastes like a cross between a strawberry and a watermelon and it has a very strong aroma.
Can Dogs Eat Lychee
In moderation, small amounts of skinned and seeded lychee fruit is safe for dogs. This fruit is really high in fiber, so if your dog eats too many of them, it might give them an upset stomach or make them have to poop a lot.
Can Dogs Eat Litchi
Lychee's scientific name is Litchi chinesis because it is native to China. This is also why it is also called the Chinese strawberry. Yes, dogs can safely eat the litchi flesh in small amounts as a rare treat.
Dogs should not eat the skin or the seeds of this fruit. It could be a choking hazard for your pet. There hasn't been enough research to determine whether the skin or seeds have toxins, but it is best to keep those away from your dog.
Can Dogs Eat Lychee Fruit
Yes, dogs can safely eat small amounts of lychee fruit without the skin or pits (seeds). Do not let your dog eat canned lychee since it has way too much added sugar in it. Dogs that eat too much sugar are at a higher risk of diabetes and heart disease.
Are Lychees Poisonous To Dogs
There is still not enough research to determine the precise safety of lychees. Most of my research has shown that lychees are safe in small quantities. They are not poisonous to dogs.
It's still not quite known how many lychees dogs can safely eat before they react negatively. They are really high in fiber, so watch out for signs of an upset stomach. If your dog has a bad reaction to eating lychee, please tell your vet.
Can Dogs Eat Lychee Nuts
The fruit of the lychee is also called a lychee nut. This soft, white flesh is safe for dogs in small quantities.
As with all new foods you introduce to your dog, only give them a very small amount first to watch and see if they have an adverse reaction to it before you give them more.
Can Dogs Eat Lychee Pits
What about the seeds, can dogs eat lychee seeds or pits?
No, dogs should not eat the lychee pits. These are choking hazards for dogs, you should always remove them. Plus, the pits could get lodged in their digestive system. Don't let your dog eat the lychee unless the seeds are removed first.
Can Dogs Eat Lychee Jelly
Dogs should not eat foods that are really high in sugar, like lychee jelly. Sugary foods are really high in calories and could lead to weight gain and other health effects such as heart disease and diabetes.
Sugary foods are usually full of calories but low in other nutrients. If you are going to give your dog some lychee fruit, let them eat some of the actual fruit instead of the jelly.
Final Thoughts
So, can my dog eat lychee? Turns out, the answer is complicated.
Lychee might be a super food for humans, but you should probably keep it away from your dog. Even though it is generally safe for dogs to eat in small amounts, there is just not enough research on whether it is actually good for your dog yet.
The safest answer is to just keep it away from your dog. If you are going to let them eat it, only give them a small amount at first and keep an eye on them for any negative reactions. Always contact your vet if you notice your dog acting sick after eating lychee fruit.
More Dog Food Resources
Here are some articles about other human foods and whether they are safe or toxic for your dog to eat.
Find even more articles on human food dogs can and can't eat here on Spoiled Hounds!
📌 Pin this to save and share 📌