You recently adopted a puppy or adult dog. Congratulations! It's an exciting time filled with new adventures. Some of those times are fun and others can be challenging. There is so much to be done and you'll have a bunch of questions.
Are you wondering why spay or neuter a dog? Well, keep reading for information on the reasons and benefits of spaying or neutering a dog.
Important Note: I am not a veterinarian. Do not take this article as medical advice for your dog. It is for informational purposes only. You should discuss any surgery or health benefit for your dog with your veterinarian.
Spaying or neutering is one of the most important decisions you need to make regarding your dog's health.
What is the difference between spay and neuter?
A spay is an ovariohysterectomy, the removal of a female dog's uterus and ovaries through an incision made in the abdomen. It is a veterinary surgical procedure performed under general anesthesia. A spay can also be performed laparoscopically.
Neutering, or castration, is the surgical removal of a male dog's testes. The procedure is performed under general anesthesia. An incision is made near the front of the scrotum, then the testicles are removed through that incision.
Benefits and Reasons to Spay or Neuter Your Dog
These are the top reasons and benefits for spaying or neutering your dog:
Reduce the Abundance of Unwanted or Homeless Dogs
There are too many homeless and unwanted animals. An estimated 7 million homeless animals enter animal shelters every year in the United States. Less than half of these animals are adopted. Sadly, the rest are euthanized.
Many of the unwanted dogs are puppies from unplanned litters. Animal shelters would experience a reduction in their populations if dog owners would spay or neuter their dog.
Spay or neuter is the only permanent and 100% effective method of birth control for dogs.
Spaying and Neutering have Health Benefits for Your Dog
Spaying helps prevent diseases that are fatal in about 50% of female dogs. Unspayed female dogs have a far greater chance of developing pyrometra (a uterine infection), uterine cancer, and other cancers of the reproductive system if they are not spayed.
Neutering your male dog prevents testicular cancer. This is critical for dogs that have undescended testicles. Neutering also can lower the chance of prostate cancer.
Your Spayed Female Dog Will Not Go into Heat
There is a mess that goes along with your female dog being in heat. The heat cycle lasts for about 3 weeks and during that time there is a bloody discharge. Spaying your dog will prevent this mess entirely.
Your female dog is in heat, she will release pheromones that attracts male dogs from all around looking to mate. Male dogs will jump over or dig under fences to get to your female in heat. Preventing unwanted mating is a benefit of spaying.
Lessen a Male Dog's Desire to Roam Away from Home
An intact male will do just about anything to mate, especially if he catches the scent of a female in heat. Escaping and roaming to get to a female increases the risk of injury by being hit by a car or fighting with other males.
Your Neutered Male May have Better Behavior
Unneutered dogs are prone to mark their territory by spraying urine all over the house. Neutering your dog should reduce urine marking and may stop it altogether.
Neutering your dog may make him less aggressive. The majority of dog bites involve dogs that have not been fixed. However, there is no guarantee his personality will change.
Spaying or Neutering Will Not Cause Your Pet to Get Fat
Dogs get fat because of overfeeding and lack of exercise. Your dog will remain fit and trim as long as you provide regular exercise, monitor food intake, and feed your dog a healthy diet.
It is Easier on the Wallet in the Long Run
The cost of your dog's spay or neuter surgery is a lot less than the expenses you'll incur with having and caring for a litter. Pregnant females require vitamin supplements, higher quality dog food, and regular vet checkups. The puppies will also need puppy food when being weaned, vet checkups, and vaccinations.
Caring for a dog with reproductive system cancer or pyometra can easily cost thousands of dollars. It is much more expensive than a routine spay or neuter surgery.
Spaying and Neutering Your Pet is Good for Your Community
Stray dogs pose a real problem. They can prey on wildlife and attack pets. They carry deadly diseases that can be transmitted to your dog. Spaying and neutering help reduce the number of feral dogs on the streets.
Reduction of Breed Dilution
Each dog breed has particular standards set by the American Kennel Club. The breed standard is used in determining what makes a dog the best of its breed.
Breed standards define characteristics including shape, height, color, and health clearance of hips, eyes, elbows, and heart. These factors come together to make a healthy dog that will lead to an overall better breed. Breeding dogs that do not meet the breed standard can lead to breed dilution.
Improper breeding can also result in a much weaker dog with various inbred health conditions. Reputable, professional breeders check dogs' lineage to ensure no inbred litters. They also have their breeding dogs health tested.
Spaying and neutering dogs that are not the best of the breed can ensure healthy breeding lines continue. Properly bred dogs experience fewer genetic health concerns.
True pet lovers spay and neuter their purebred dog because of their love of the breed. You have no place breeding your purebred dog unless you are a certified breeder.
Have you heard of whippet champions Whiskey and Bourbon? They are the result of proper breeding. This is their mom, Patchouli: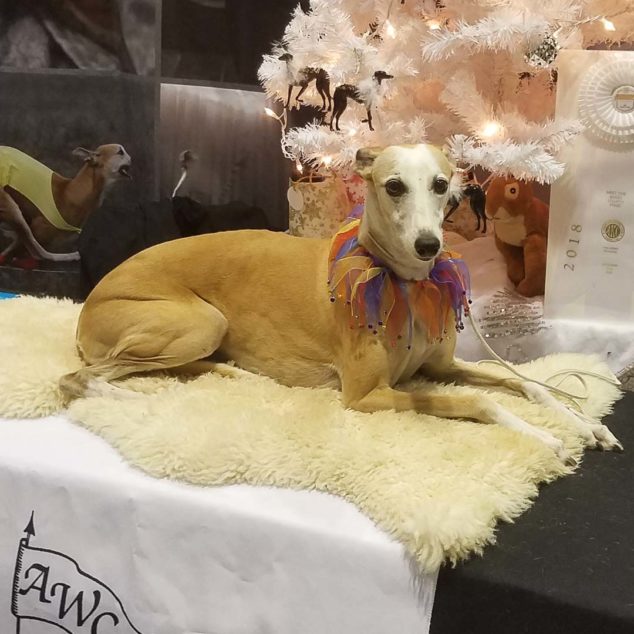 What age should a dog be spayed or neutered?
You should consult with your veterinarian to determine the best age to spay or neuter your dog.
The AKC's Canine Health Foundation sponsored research indicates there may be long-term health benefits to spaying or neutering dogs after they have passed through puberty. Benefits to neutering after puberty can include:
Reduction in orthopedic health problems
Possible reduction in certain cancers in specific breeds
Possible improved behavior
Research continues in this area to compare differences among breeds and size of dogs.
How much does it cost to spay or neuter a dog?
The cost of spaying and neutering varies due to a wide range of factors:
Overall health
Size and weight
Geographic location
Whether spaying or neutering
Type of neutering (regular or for undescended testicles)
Type of surgery (traditional or laparoscopic)
Many pet owners have their regular veterinarian perform their dog's spaying or neutering surgery. The price range for spaying and neutering from a regular veterinarian ranges significantly. You need to contact your vet for pricing.
There are many clinics that provide affordable spaying and neutering. Common prices range from $45 to $150 per pet. Visit SpayUSA to find a low-cost spay or neuter clinic.
Another affordable option for spaying and neutering may be at your local animal shelter. Many shelters offer spay and neuter surgery at a lower cost than at a veterinarian's office.
Related reading: What to consider before getting a puppy for Christmas.
📌 Pin this to save and share 📌
Dog Spaying and Neutering Statistics
Every year approximately 7 million shelter animals are euthanized.
50% of dogs are euthanized due to a lack of adopters.
An animal is euthanized every thirteen seconds in the United States alone.
Approximately 25% of shelter dogs are purebred and have documentation to prove it.
Approximately 50% of unspayed female dogs develop tumors in their breast tissue.
Approximately 60% of unneutered male dogs develop prostate cancer.
The yearly cost to US taxpayers is around $2 billion to impound, shelter, euthanize, and dispose of homeless animals.
Only about 10% of dogs that wind up in local shelters have been spayed or neutered.
Around 75% of owned dogs are spayed or neutered.
Spaying and neutering may add 1 to 3 years to your dog's life.
Spaying or neutering your dog is an important decision. Discuss it thoroughly with your veterinarian. Make the best choice for your dog, family, community, and breed.
Other dog info to read: Why Do Dogs Eat Poop and How to Stop It.