Meet Patchouli!
She's a gorgeous whippet and a real sweetie. One of her offspring is a champion. His name is Whiskey (short for Pinnacle Tennessee Whiskey). You may have heard of him recently winning Best in Show at both the 2018 AKC National Championship and 2018 National Dog Show. Anyway, this is about Patchouli and her fantastic, spoiled life. And it's a great one, indeed!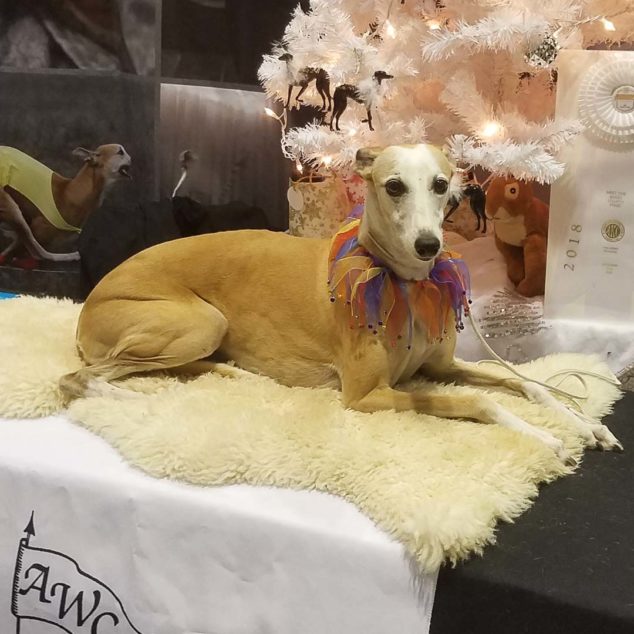 Check out these fun facts about her as told by her human mom, Paige.
Why did you get your dog?
When Michael and I would visit her breeder, Yvonne Sovereign, we just loved her. Michael said if she ever rehome her we would take her. When Patchouli retired from the show ring and whelping box, Yvonne was kind enough to send her to us in Florida.
Your Dog's Breed or Mixed
Whippet
How did you decide on your dog's name?
She came with it.
What is your dog's favorite toy?
Anything she can destroy.
What is your dog's favorite treat?
My homemade dog cookies.
How do you spoil your dog?
I bought her her own chair.
What's a funny story about your dog or how does your dog make you laugh?
She's pretty bossy. If another dog comes near her chair she'll hop down and bark, then hop back into the chair.
How do you have fun and play with your dog?
She has 5 other whippets to play with. She especially likes to play with her daughter Rose. We also take her to the dog bakery in Mt. Dora.
Is there anything special or unique about your dog? If so, what is it?
She's Whiskey's mom!
What else would you like to share about your dog?
She helped with the Meet the Breeds booth at the AKC National Championship in December for the first time this year, and she was great at it. But who wouldn't like to be petted and told how pretty they are all day!
Patchouli enjoying chewies at a dog bakery:
Just look at her sweet face:
She loves a nice, comfy place to lie down:
Many thanks to Paige for sharing the fun of your sweet dog, Patchouli!
Would you like to have your dog featured? It's easy to do. Just fill out the Featured Hounds Interview Form.
📌 Pin this to save and share 📌