It's true! These whippet dogs really are playing. Milo and Luke are best buddies. Their day wouldn't be complete without playtime. If one doesn't get it started, the other one will. All I have to do is get my camera and press the shutter release while they are at it. Then I laugh when I take a look at the photos. Why? Because it sure doesn't look like playing. Their teeth. Their faces. Silly hounds.
It usually starts with a wrestling pose:
Then Luke will try to do a playful tug on Milo's ear:
Milo will put a stop to that ear tugging thing:
Luke will wind up on the ground with Milo on top. Notice Zephyr in the background walking off like he isn't getting involved in that silliness.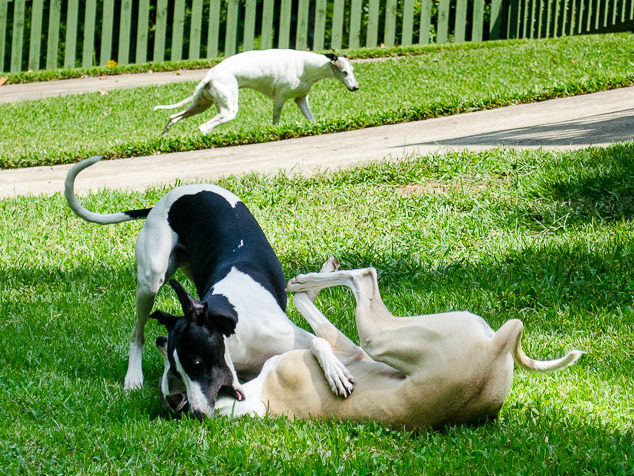 Mid-play and another example of their synchronized whippet running (note their legs):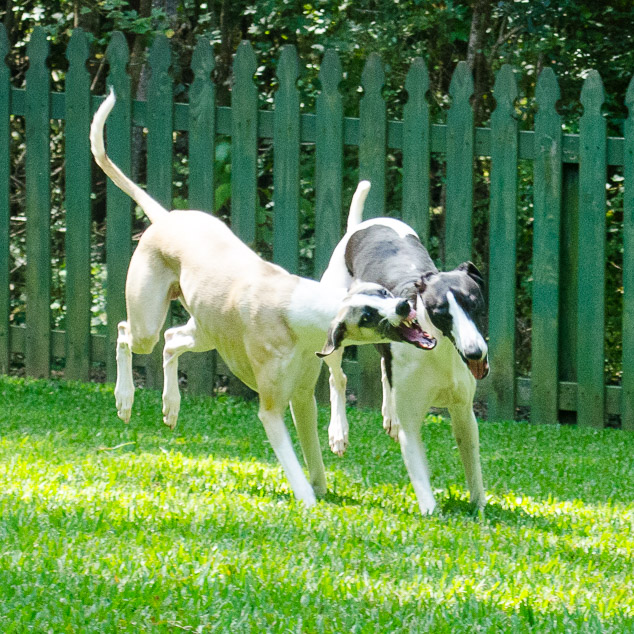 More goofiness ensues and, yes, these dogs really are playing together:
Oh, those teeth! They don't phase Milo one bit. He'll look at Luke like "yea, right!" and they'll keep right on playing.
Those are just some of the antics of Milo and Luke. They make me laugh every single day with the games they play.
More of Milo and Luke playing:
What does your dog do that makes you laugh? Please leave a comment and tell about its shenanigans.
Get your dog featured on Spoiled Hounds! It's easy to do. Just fill out the Featured Hounds Interview Form.
📌 Pin this to save and share 📌