It's almost that time again! These are the most creative and best whippet lover gifts on Etsy.
I absolutely adore Etsy. There is always something unique on there that you can't find in the store. Plus, you're supporting someone's small business, how amazing is that?
FYI – This post contains affiliate links.
I went to Etsy and found some really cute, funny, and just amazing gifts that any whippet-lover will appreciate.
What Makes Gifts on Etsy Extraordinary?
All of these gifts are handmade or designed by the seller. They are creations that you can only get on Etsy, so they are unique.
And I really enjoy supporting entrepreneurs. There's something magical about knowing I'm helping someone support their family with their art.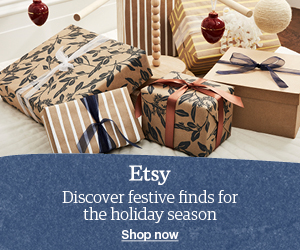 Why should whippet lovers shop on Etsy?
Because Etsy is fun to shop on! But here are some more reasons too:
You support entrepreneurs
The items are unique and handmade
You'll have fashionable and fun items no one else has
Show off your love of whippets with creative gifts
Whippet-Lovers Gift List
Browse this list of hand-picked gifts for whippet lovers. You are going to find a few things for yourself while you're here.
Whippet Wrapping Paper
First, I found the cutest wrapping paper I have ever seen! This arrives folded in a padded envelope. Order plenty, your gifts will really stand out.
Aren't those little Santa caps the cutest things ever?
The cutest Christmas Dog Wrapping Paper:
Get Christmas Dog Wrapping Paper on Etsy.
Whippet Scarf
Do you know someone that loves wearing scarves? Then this is perfect. It's so unique and shows off their love of the breed with an unobtrusive print.
A lovely whippet print scarf:
Get a whippet print scarf on Etsy.
Whippet Socks
These are so funny! But they are the best. They are perfect for someone with a sense of humor. They are handmade out of cotton and ship free to the United States.
Comfy whippet socks:
Get whippet socks on Etsy.
Whippet Necklace
These whippet charms are so delicate and beautiful. In fact, you can't even tell they are dogs unless you look closely. That makes this a perfect gift for someone that enjoys wearing jewelry.
Gorgeous sterling silver running whippets necklace:
Get a running whippets necklace on Etsy.
Whippets Bracelet
A leather bracelet that says whippets in large letters really makes a statement. It's a really fashionable piece of jewelry that any pet-owner will be proud to wear.
Make a statement with a leather whippets bracelet:
Get a leather whippets bracelet on Etsy.
Brooch Pin
This brooch pin is hand-designed with the slim whippet shape. It's unmistakable and will look dashing on a lapel or scarf.
Fun whippet brooch pin:
Get a whippet brooch pin on Etsy.
Whippet Rolling Pin
Imagine baking up a dozen cookies all with the lovely whippet prints. You can also use it to roll out pie crust too. The possibilities are endless.
Make pretty cookies with this whippet rolling pin:
Get a whippet rolling pin on Etsy.
Whippet Tea Towel
These hand-printed towels use eco-friendly black ink. They will be at home in any whippet home. The design is elegant and will fit in any kitchen, no matter what decor theme they have.
Cotton whippet kitchen tea towel:
Get a whippet kitchen towel on Etsy.
Whippet Makeup Purse
The brown and cream whippets look like they are leaping among the stars on these pretty blue makeup bags. Fill the bags with a few sample-sized makeups or nail polishes for a personalized gift.
Pretty whippet makeup purse:
Get a whippet makeup purse on Etsy.
Whippet Pendant
This pendant can go on bracelets or a keychain. It has a very unique print on it. You have to look closely to tell it's a whippet, but the neck and head-shape are unmistakable. This is perfect for artsy people.
Nice whippet pendant:
Get a whippet pendant on Etsy.
Sassy T-Shirt
Who can relate to this? Wrap this shirt around a bottle of wine for a little extra gift-giving thought.
Fun Whippet Mother Wine Lover t-shirt:
Get a whippet mother wine lover t-shirt on Etsy.
Wood Whippet Ornament
Display how much you love whippets proudly on your tree. It's a rustic-looking ornament in the gorgeous whippet-shape. Even better you can have it engraved with your monogram or your pet's name.
Personalized Wood Whippet Ornament:
Get a wood whippet ornament on Etsy.
Whippet Pillow
How cute is this pillow? The pom poms along the side of the pillow make it at home in any farmhouse-style house.
Lovely tweed whippet pillow:
Get a tweed whippet pillow on Etsy.
Whippet Welcome Mat
This is perfect for displaying your love of whippets right outside your front door. It's made with coconut fibers and ships free to the United States.
Fun Whippet Welcome Mat:
Get a whippet welcome mat on Etsy.
Whippet Throw Pillow
The browns and greys in this pillow are so beautiful. It looks like it was handpainted with watercolors. You'll want to put a pair of them right on your couch or armchair.
Cute Whippet Throw Pillow:
Get a whippet throw pillow on Etsy.
More Great Whippet and Dog Products
Are you ready to go shopping now? I know I am! Here are some more collections I created. You'll be sure to find the best ideas one all of them. Also look at the Etsy Gift Guide for Pets and Pet Lovers.
📌 Pin this to save and share 📌